Parmesan Panko Asparagus
Quick & Easy |
Side Dishes |
Vegetarian |
Nut-Free
These cheesy, crispy asparagus spears make an addictive appetizer or scrumptious side dish and please even the pickiest eaters.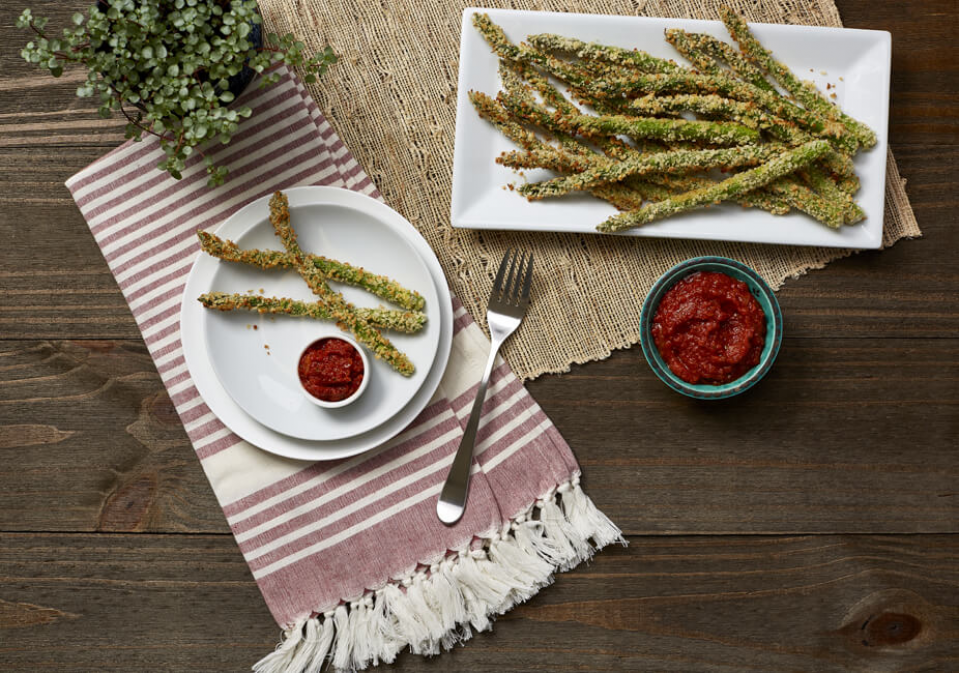 Temperature:
425 degrees
Serving size:
3 asparagus pieces
Prep time:
10 minutes
Cook time:
10 minutes
Total time:
20 minutes
Equipment:

Large baking sheet

Aluminum foil

3 shallow dishes

Small bowl for marinara (if using)

Utensils:

Knife

Measuring cups and spoons
* Cost and availability of recipe ingredients may vary across different regions of Ohio. Cost per serving information should be used as a general guide when considering recipe cost.
Non-stick spray
1/2 cup all-purpose flour
1 teaspoon garlic powder
1/4 teaspoon black pepper
2 eggs
1/4 teaspoon salt
3/4 cup panko breadcrumbs
1/2 cup grated Parmesan cheese
1 pound asparagus
1 cup marinara sauce (optional)
Instructions
Before you begin, wash your hands, surfaces, utensils, tops of cans, and vegetables.
Arrange oven racks to that they are in the center and second-lowest positions. Preheat oven to 425 degrees. Line a large rimmed baking sheet with aluminum foil and spray with non-stick spray.
Add flour, garlic powder, and black pepper to a shallow bowl and mix to combine. In a second shallow dish, whisk together eggs and salt until well-combined. In a third shallow bowl, combine panko and Parmesan cheese.
Wash asparagus and trim off the tough ends. Working with a few pieces at a time, dredge asparagus in flour mixture, then coat with egg mixture, and roll in panko/Parmesan mixture. Arrange asparagus on baking sheet so there is a little bit of space between each piece.
Place baking sheet on a rack in the lower half of the oven and bake for 10 minutes. Check asparagus are crispy and golden, or leave in oven for another 3-5 minutes. Serve immediately.
Heat marinara sauce, if using, and serve with asparagus for dipping.
Tips
The ends of asparagus are tough, when preparing the asparagus for this dish make sure to cut one to two inches from the bottom to get rid of the tough stem.
Featured
Ingredients


What goes in Parmesan Panko Asparagus?

Garlic Powder

Eggs
Panko Breadcrumbs

Parmesan Cheese

Asparagus
Nutritional Information
(Per Serving)
See complete nutrition facts >>
Comments