Chicken and Dumplings
Main Dishes |
Soups |
No Added Sugars |
WIC Friendly |
Egg-Free |
Nut-Free
Savory chicken and delicious dumplings in warm broth will become an instant family favorite.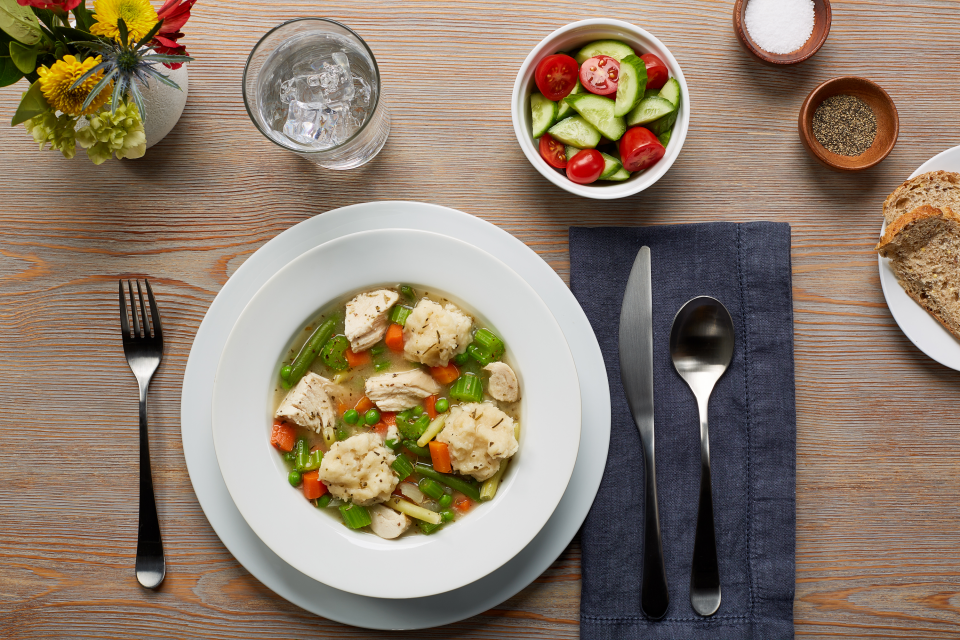 Temperature:
Medium-high heat, reduced to low heat
Serving size:
1 cup
Prep time:
5 minutes
Cook time:
30 minutes
Total time:
35 minutes
Equipment:

Large pot

Cutting board

Small bowl

Utensils:

Knife

Spoon

Measuring cups and spoons
* Cost and availability of recipe ingredients may vary across different regions of Ohio. Cost per serving information should be used as a general guide when considering recipe cost.
3 cups low-sodium chicken broth
1 pound boneless skinless chicken breasts, diced
1 small onion, diced
2 large carrots, diced
3 stalks celery, diced
1 1/2 Teaspoon Italian seasoning OR Celebrate Your Plate Italian Seasoning
1 12 ounce package frozen vegetable mix
1 cup all-purpose baking mix*
1/2 cup low-fat milk, plus 1-2 tablespoons milk as needed
* 1 cup flour, 2 teaspoons baking powder, 3/4 teaspoon salt
Instructions
Before you begin, wash your hands, surfaces, utensils, produce, and tops of cans.
In a large pot, heat broth over medium-high heat and bring to a boil.
Add chicken, onion, carrots, celery, and Italian seasoning.
Reduce heat to a simmer and cook 8-10 minutes, uncovered, until chicken reaches an internal temperature of 165 degrees.
Add mixed frozen vegetables and simmer 1-2 minutes.
In a small bowl. combine all purpose baking mix* and milk. Mix well until a soft dough forms. If dough is too dry, add 1 tablespoon or milk at a time until it comes together.
Reduce heat under pot to low.
Form 1-inch dumplings with your fingers and drop them into the pot. Cook uncovered for 8-10 minutes or until dumplings are cooked through.
* Follow these instructions to make your own all-purpose baking mix: In a small bowl, combine 1 cup flour, 2 tablespoons baking powder, and 3/4 teaspoon salt.
Featured
Ingredients


What goes in Chicken and Dumplings?

Celery

Carrots

Frozen Mixed Vegetables

Chopped Onions
Nutritional Information
(Per Serving)
See complete nutrition facts >>
Comments