Pesto Chicken Pasta for One
Kid Approved |
Main Dishes |
Quick & Easy |
WIC Friendly |
Egg-Free |
One-Two Serving
Just because it's just you doesn't mean it can't be extra special. This pasta dish is quick, easy, and tastes like it took hours.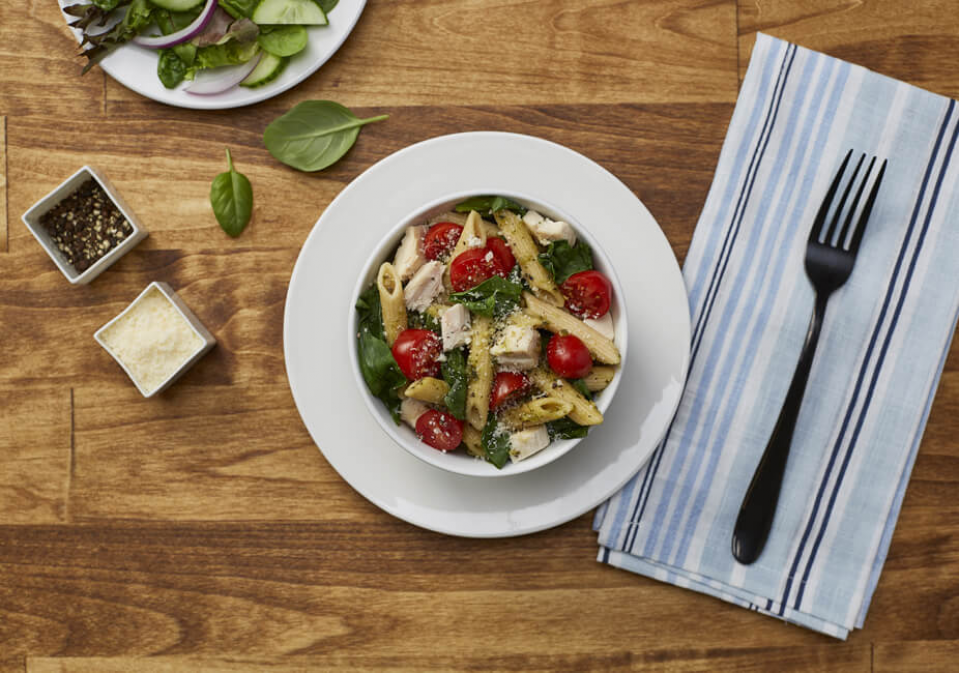 Temperature:
High heat
Serving size:
Entire recipe
Prep time:
2 minutes
Cook time:
10 minutes
Total time:
12 minutes
Equipment:

Large microwave-safe mug OR Small microwave-safe bowl

Utensils:

Stirring spoon

Measuring cups and spoons
* Cost and availability of recipe ingredients may vary across different regions of Ohio. Cost per serving information should be used as a general guide when considering recipe cost.
1/2 cup uncooked whole grain (rotini, penne, or other small shape) pasta
1 cup water, divided
3/4 tablespoon pesto, divided
1/2 cup cherry or grape tomatoes, halved
1 cup fresh spinach leaves, shredded
1/2 10 ounce can chicken breast in water OR 1/2 cup cooked chicken breast, cubed
1 tablespoon grated Parmesan cheese
Instructions
Before you begin, wash your hands, surfaces, utensils, tops of cans, fruits, and vegetables.
Place pasta and 2/3 cup of water in a large mug or small microwave safe bowl.
Microwave for 7 minutes, stirring once halfway through.
Stir the pasta again and add the remaining 1/3 cup of water. Heat for 2-3 more minutes or until pasta is cooked through.
Add 1/2 tablespoon pesto to mug with pasta, mix until pasta is well coated. Add in the tomatoes, spinach, and chicken and mix thoroughly. Microwave covered for 30 seconds to 1 minute, until spinach is wilted and tomatoes are soft.
Stir in the Parmesan cheese and add the remaining 1/4 tablespoon pesto.
Tips
For a more budget friendly version of this recipe pesto can be substituted for marinara or any red pasta sauce.
Featured
Ingredients


What goes in Pesto Chicken Pasta for One?

Spinach

Whole Grain Pasta

Grape Tomatoes

Chicken Breast
Nutritional Information
(Per Serving)
See complete nutrition facts >>
Comments