Pickled Beets and Eggs
Dairy-Free |
Gluten-Free |
Snacks |
Low Sodium |
Vegetarian |
WIC Friendly |
Nut-Free
There are few things more beautiful than the deep red hue of pickled beets and eggs!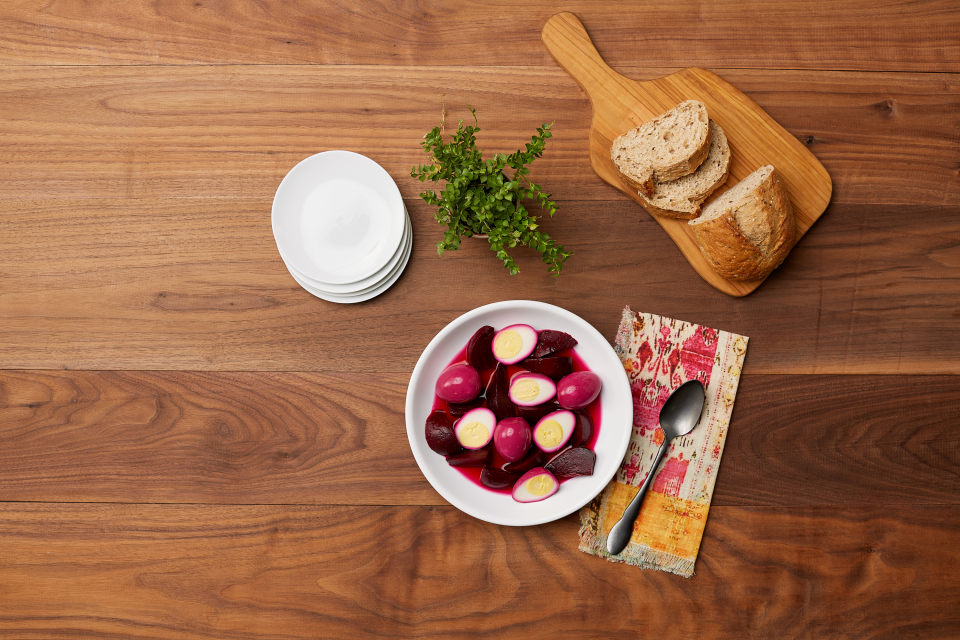 1 hour, 40 minutes
Total Time
Temperature:
Medium-high heat
Serving size:
1 egg and 2-3 beet wedges
Prep time:
10 minutes
Cook time:
30 minutes and 1 hour cooling time
Total time:
1 hour, 40 minutes
Equipment:

Cutting board

Vegetable peeler

Medium pot with lid

Colander

Large saucepan with lid

Large container with lid

Utensils:

Knife

Fork

Measuring cups and spoons
* Cost and availability of recipe ingredients may vary across different regions of Ohio. Cost per serving information should be used as a general guide when considering recipe cost.
6 large eggs
2 cups water
1/2 cup white vinegar
1 teaspoon sugar
2 large beets, peeled and cut into wedges
Instructions
Before you begin, wash your hands, surfaces, utensils, and vegetables.
To hard boil eggs, place them in a pot and over with 1 inch of cold water. Bring to a boil over medium-high heat, cover, remove from heat, and set aside for 8-10 minutes. Drain pot, cool eggs in ice water, and peel.
Combine water, vinegar, beet wedges, and sugar in a large saucepan. With lid on pot, simmer for 20 minutes, or until beets can be easily pierced with a fork.
Cool the beet mixture completely, about 1 hour.
Pour the beets into a container with a lid and add the peeled eggs. Stir the eggs and beets in the liquid to completely coat.
Eggs and beets can remain in the refrigerator for up to 1 week.
Featured
Ingredients


What goes in Pickled Beets and Eggs?

Eggs

Beets
Nutritional Information
(Per Serving)
See complete nutrition facts >>
Comments