Pickled Beets and Eggs
Snacks |
Low Sodium |
No Added Sugars |
Vegetarian |
WIC Friendly
There are few things more beautiful than the deep red hue of pickled beets and eggs!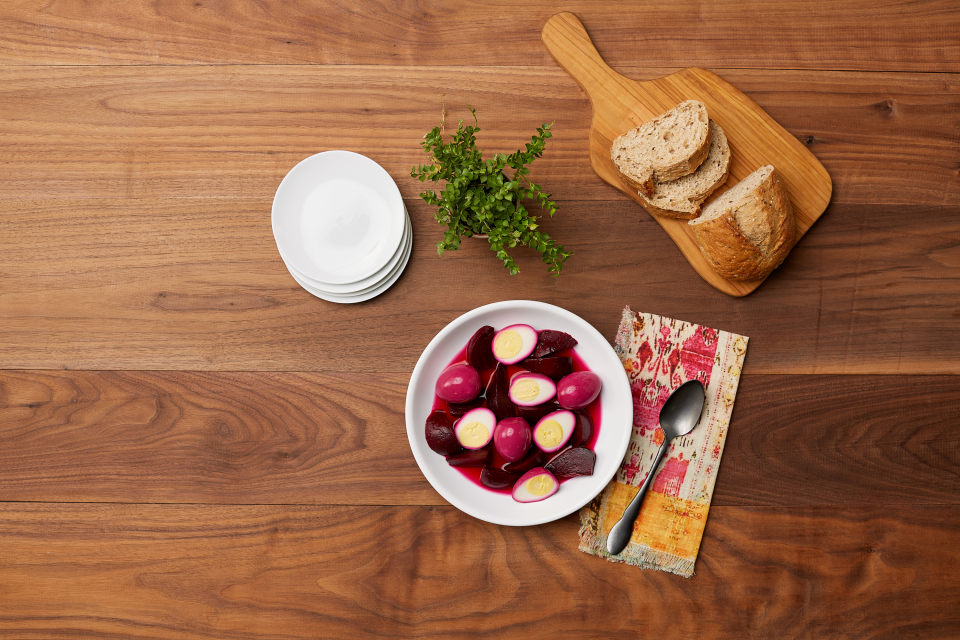 1 hour, 40 minutes
Total Time
Serving size:
1 egg + 2-3 beet wedges
Prep time:
10 minutes
Cook time:
30 minutes + 1 hour cooling time
Total time:
1 hour, 40 minutes
Equipment:

Cutting board

Vegetable peeler

Medium pot with lid

Strainer

Measuring cups

Measuring spoons

Large saucepan with lid

Large container with lid

Utensils:

Knife

Fork
6 large eggs
2 cups water
1/2 cup white vinegar
1 teaspoon sugar
2 large beets, peeled, and cut into wedges
Instructions
1. Before you begin, wash your hands, surfaces, utensils and vegetables.
2. First, hard boil the eggs: place eggs in a pot and cover with 1 inch of cold water. Bring to boil over medium-high heat, then cover, remove from heat, and set aside for 8 to 10 minutes. Drain, cool eggs in ice water, and peel.
3. Combine water, vinegar, beet wedges and sugar in a large saucepan and simmer, covered, for 20 minutes or until beets can be easily pierced with a fork.
4. Cool the beet mixture completely, about 1 hour.
5. Pour the beets into a container with a lid and add the peeled eggs. Stir the eggs and beets in the liquid to completely coat.
6. Eggs and beets can remain in the refrigerator for up to one week.
Featured
Ingredients


What goes in Pickled Beets and Eggs?

Eggs

Beets
Nutritional Information
(Per Serving)
See complete nutrition facts >>
Comments