Simple Stir-Fry Noodles
Dairy-Free |
Main Dishes |
High in Fiber |
WIC Friendly
Loaded with veggies and protein, this homemade stir-fry is a flavorful way to eat light.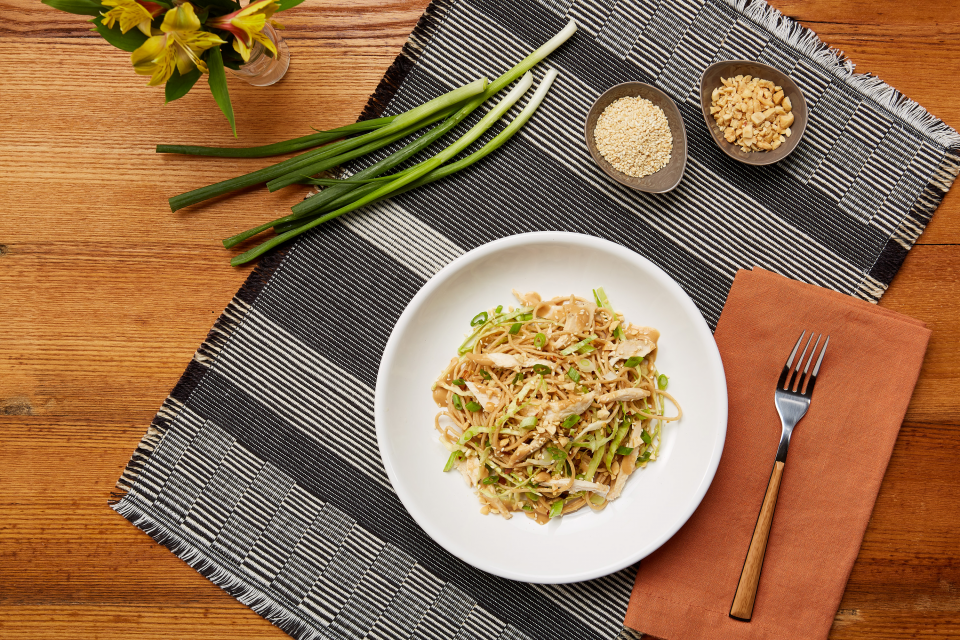 Temperature:
Boil, low heat
Serving size:
1 cup
Prep time:
15 minutes
Cook time:
15 minutes
Total time:
30 minutes
Equipment:

Large pot

Colander

Utensils:

Measuring cups and spoons

Whisk or fork

Tongs or spatulas
6 ounces whole wheat spaghetti
1/4 cup peanut butter
2 tablespoons low-sodium soy sauce
1/2 cup water
1 teaspoon red pepper flakes
1/2 teaspoon ground ginger
1/2 large head cabbage, thinly sliced or 1 16 ounce bag of coleslaw mix
1/4 cup green onions, thinly sliced
8 ounces cooked protein of your choice: chicken breast, tofu, or ground pork (optional)
Instructions
1. Before you begin wash your hands, surfaces, utensils, and vegetables.
2. Bring 4 cups water to boil in a large pot. Add spaghetti noodles and cook according to package directions. Drain pasta and rinse with water.
3. Over low heat, add peanut butter, soy sauce, and 1/2 cup water to the large pot. Whisk quickly to combine.
4. Add red pepper flakes, ginger, and cabbage to peanut sauce and cook 3 to 4 minutes, tossing continuously.
5. Stir in green onions, cooked noodles and protein, if using.
Featured
Ingredients


What goes in Simple Stir-Fry Noodles?

Green_onions

Whole Grain Pasta

Cabbage

Ground Ginger
Nutritional Information
(Per Serving)
See complete nutrition facts >>
Comments