Potato Skins with Buffalo Chicken
Gluten-Free |
Kid Approved |
Main Dishes |
No Added Sugars |
High in Fiber |
WIC Friendly
This recipe puts a healthy spin on classic potato skins with sweet potatoes, lean boneless, skinless chicken breasts and celery stalks for scooping.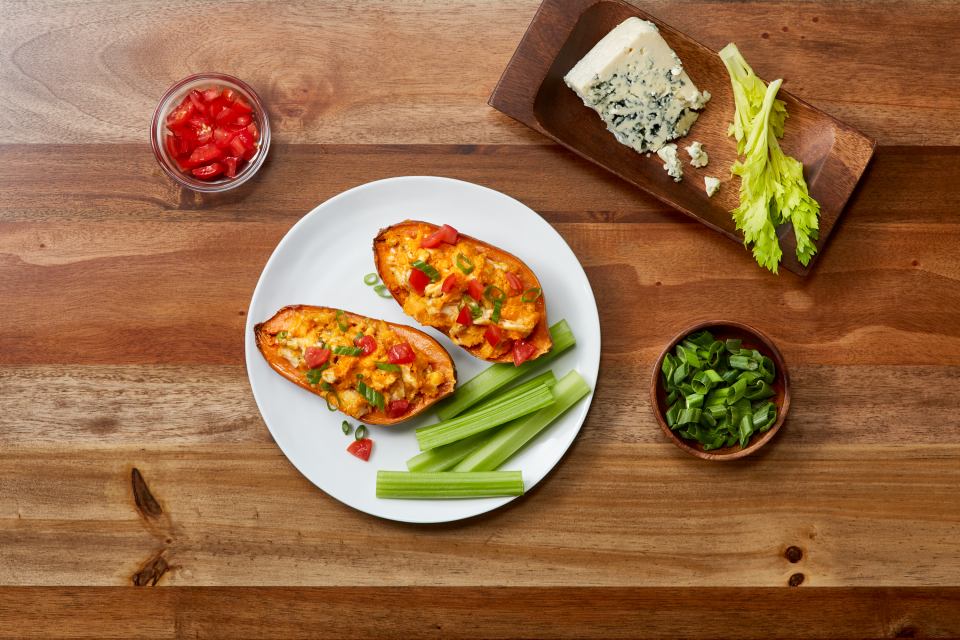 Temperature:
425 degrees
Serving size:
1 1/2 cups
Prep time:
10 minutes
Cook time:
45 minutes
Total time:
55 minutes
Equipment:

Skillet or pan with lid

Vegetable scrub brush

Microwave safe dish large enough to hold sweet potatoes

Measuring cups and spoons

Bowl to mix potato, chicken and hot pepper sauce

Baking sheet large enough to hold sweet potatoes

Cutting board

Utensils:

Two forks

Knife

Spoon
12 ounces boneless, skinless chicken breast, cooked and shredded
1 cup water or enough to cover the chicken
4 medium sweet potatoes
1/4 cup hot sauce
1/4 cup non-fat milk
1/4 cup low-fat Greek yogurt
Optional Toppings:
1/4 cup crumbled blue cheese
2 green onions, chopped
2 medium tomatoes, chopped
Instructions
Before you begin wash your hands, surfaces, utensils, and vegetables.
Preheat oven to 425 degrees.
Poke several holes in the sweet potatoes with the tip of a knife. Place potatoes in a microwave-safe dish and microwave on high for 8 minutes. Turn the potatoes and cook for another 5 minutes. The potatoes should now be cooked: test for doneness by inserting a fork into the potato: it should come out easily. If not, continue microwaving the potatoes in 5-minute increments.
Allow potatoes to cool enough to handle. When cooled, slice each potato lengthwise and scoop out the inside, leaving a ¼ inch shell.
Mash the potato together with the milk, Greek yogurt, and hot sauce. Add the shredded chicken and stir to combine.
Equally divide the chicken mixture among the potato "shells" and place them on a baking sheet.
Bake for 15 minutes, or until the tops start to brown slightly. Add toppings (if using).
Tips
Follow these steps for an easy way to cook shredded chicken:
Place chicken in a pan with a lid. Add water to the pan until the chicken is covered and cover with lid.
Cook the chicken over medium-high heat until the water starts to simmer, then reduce the heat and continue cooking for 20 minutes.
At 20 minutes check the internal temperature of the chicken: once it reaches 165 degrees remove the chicken from the water and allow to cool slightly.
Using two forks (one in each hand) pull the chicken apart to shred it.
Featured
Ingredients


What goes in Potato Skins with Buffalo Chicken?

Sweet Potatoes

Hot Sauce

Shredded Chicken
Nutritional Information
(Per Serving)
See complete nutrition facts >>
Comments