Purple Pineapple Fro-Whip
Desserts |
Gluten-Free |
Kid Approved |
Quick & Easy |
Low Sodium |
Low Fat |
Vegetarian |
WIC Friendly |
Egg-Free |
Nut-Free
We've never seen a purple pineapple. But this creamy tropical fruit whip is what it would taste like.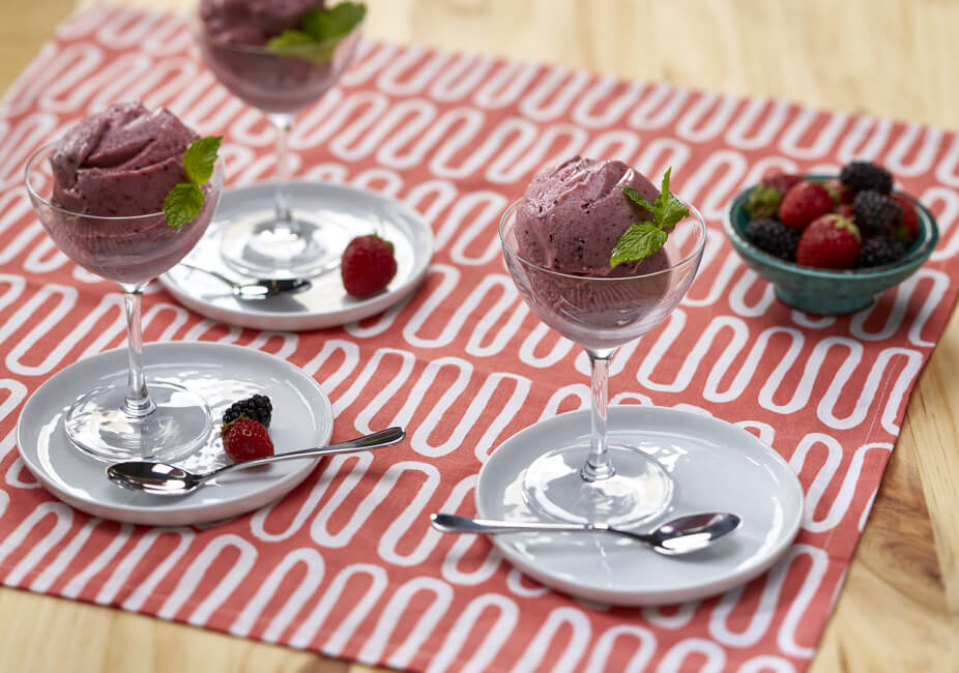 Temperature:
N/A
Serving size:
1/2 cup
Prep time:
10 minutes
Cook time:
N/A
Total time:
10 minutes
Equipment:

Blender

Serving bowls

Utensils:

Measuring cups and spoons
* Cost and availability of recipe ingredients may vary across different regions of Ohio. Cost per serving information should be used as a general guide when considering recipe cost.
2 ripe frozen bananas, chopped
1 cup frozen pineapple, chopped
1 1/2 cups frozen berry mix
1 tablespoon cornstarch (add more as needed to achieve desired texture)
1/4 cups low-fat milk
Optional Toppings:
1/2 cup (fresh or frozen) berries
1/4 cup unsalted nuts (almonds, walnuts, or pecans)
Instructions
Before you begin, wash your hands, surfaces, utensils, and fruit.
Place bananas, pineapple, berries, and cornstarch into blender. Blend until smooth. Add milk to blender in 1 tablespoon increments, blending between pours until desired consistency is reached.
Divide into 4 bowls; top with berries or nuts if using. Serve immediately.
Tips
To make sure this whip reaches the smoothest texture make sure to add the milk in small increments between blending.
Mix it up! Try different flavors of pineapple whip by adding different frozen fruit to this mix.
Featured
Ingredients


What goes in Purple Pineapple Fro-Whip?

Banana

Low-fat Milk

Frozen berry mix

Frozen pineapple
Nutritional Information
(Per Serving)
See complete nutrition facts >>
Comments