Purple Power Salad
Main Dishes |
Salads |
Side Dishes |
Low Sodium |
Vegan |
Vegetarian
Blue and purple foods are super foods: lots of them are found in this easy-to-make salad.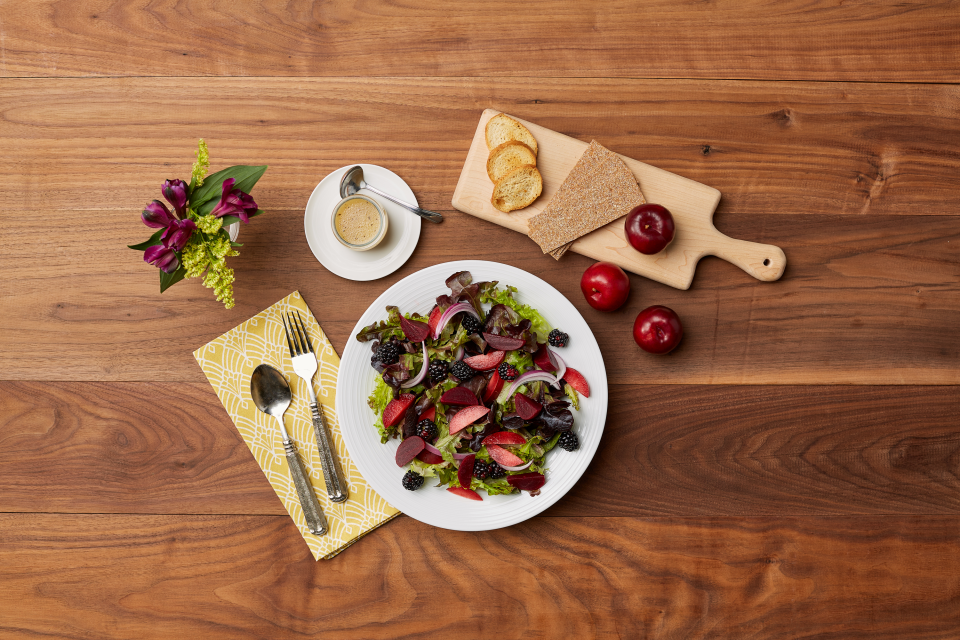 Serving size:
1 cup
Prep time:
10 minutes
Total time:
10 minutes
Equipment:

Cutting board

Grater

Strainer or colander

Measuring cups

Medium saucepan

Measuring spoons

Skillet

Utensils:

Knife
Dressing
1/3 cup olive or vegetable oil
3 tablespoons vinegar (red or white wine, balsamic, or apple cider)
2 teaspoons honey or maple syrup
2 teaspoons Dijon mustard
1/8 teaspoon pepper
Salad
4 cups purple or red leaf lettuce or cabbage, chopped
1 cup sliced plums, blackberries and/or red grapes
1 small red onion, thinly sliced (optional)
1/2 cup low-sodium pickled beets, drained and sliced
Instructions
1. Before you begin, wash your hands, surfaces, utensils and vegetables.
2. Combine all of the dressing ingredients in a small jar or container with a tight-fitting lid, cover and shake well.
3. In a large mixing bowl, combine the lettuce, fruit, beets, and onion, if using.
4. Drizzle the dressing over the salad and toss gently.
Featured
Ingredients


What goes in Purple Power Salad?

Chopped Onions
Pickled Beets

Cabbage

Red Grapes
Nutritional Information
(Per Serving)
See complete nutrition facts >>
Comments