Rice and Bean Salad
Dairy-Free |
Kid Approved |
Quick & Easy |
Salads |
Side Dishes |
No Added Sugars |
High in Fiber |
Vegan |
Vegetarian |
WIC Friendly
Rice, beans, and veggies brightened with a citrus dressing make a fun and flavorful salad.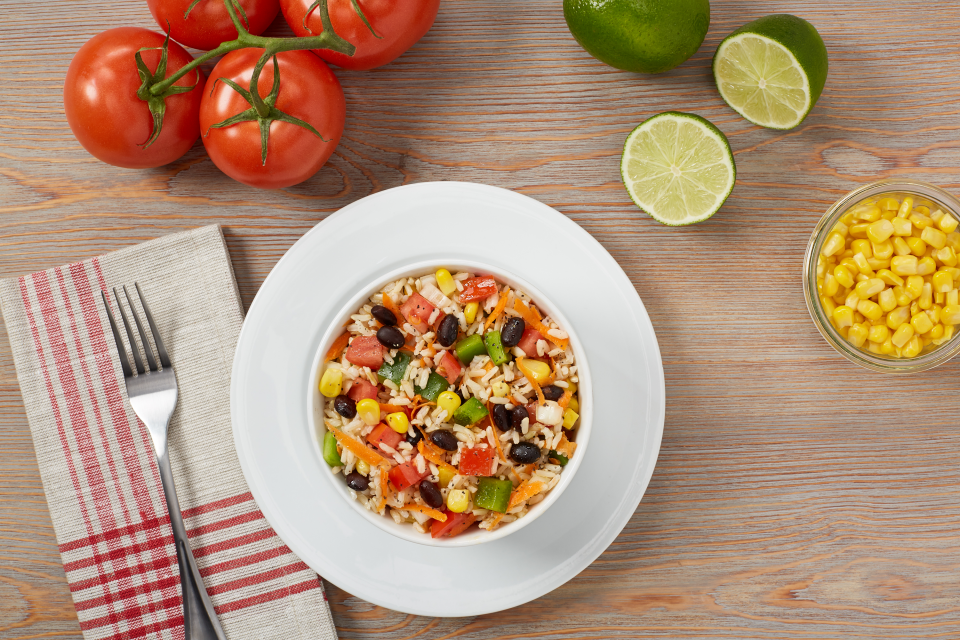 Serving size:
3/4 cup
Prep time:
20 minutes
Total time:
20 minutes
Equipment:

Cutting board

Large bowl

Utensils:

Knife

Mixing spoon

Whisk or fork
1 cup cooked, cooled brown rice
1 medium tomato, chopped
2 medium carrots, chopped or grated
2 tablespoons onion, finely chopped
1 cup frozen corn OR 1 can no salt added corn, drained and rinsed
1 green bell pepper, diced
1 15 ounce no salt added black beans, drained and rinsed
1/4 cup lime juice
1/4 cup olive or vegetable oil
1/2 teaspoon salt (optional)
1/2 teaspoon ground black pepper
Instructions
Before you begin wash your hands, surfaces, utensils, and vegetables.
Using a fork or whisk, whisk together lime juice, oil, salt (if using) and pepper in a large bowl.
Add remaining ingredients to the dressing and stir to combine.
Refrigerate at least 30 minutes before serving to let flavors blend.
Tips
Add color and flavor with 1 teaspoon cumin and 1 tablespoon dried parsley or 3 tablespoons fresh parsley (minced).
Use as a side dish, pita or tortilla filling, dip for tortilla chips, or filling for a lettuce wrap.
Add 1 cup of cooked meat, chicken, or fish for added protein.
Featured
Ingredients


What goes in Rice and Bean Salad?

Black Beans

Chopped Tomatoes

Bell Pepper

Carrots

Frozen Corn
Nutritional Information
(Per Serving)
See complete nutrition facts >>
Comments