Roasted Balsamic Brussels Sprouts
Dairy-Free |
Gluten-Free |
Side Dishes |
High in Fiber |
Vegan |
Vegetarian |
Egg-Free |
Nut-Free
Crispy Brussels sprouts pair perfectly with sweet cranberries and a splash of balsamic.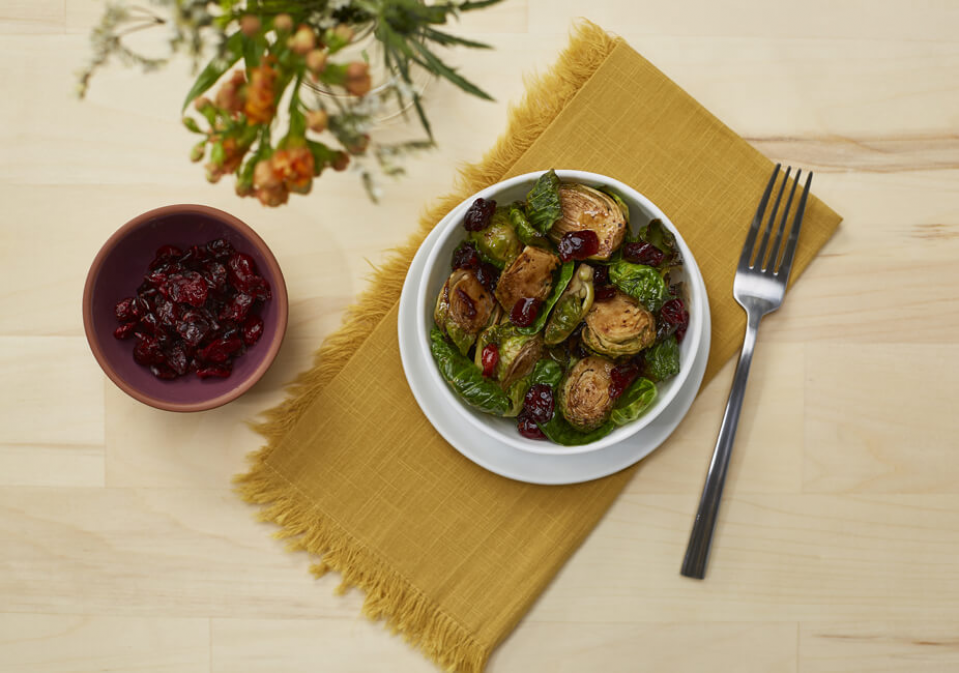 Temperature:
450 degrees
Serving size:
1 cup
Prep time:
10 minutes
Cook time:
25 minutes
Total time:
35 minutes
Equipment:

Baking sheet

Aluminum foil

Large bowl

Utensils:

Knife

Fork or whisk

Tongs

Spoon

Measuring cups and spoons
* Cost and availability of recipe ingredients may vary across different regions of Ohio. Cost per serving information should be used as a general guide when considering recipe cost.
2 pounds Brussels sprouts
4 tablespoons balsamic vinaigrette dressing, divided
3 tablespoons olive oil OR vegetable oil
3 cloves garlic, crushed OR 3 teaspoons garlic powder
1 teaspoon salt
1/4 teaspoon black pepper
1/3 cup reduced sugar dried cranberries
Instructions
Before you begin, wash your hands, surfaces, utensils, and vegetables.
Preheat oven to 450 degrees. Line a rimmed baking sheet with aluminum foil and set aside.
Wash the Brussels sprouts and trim each one by cutting off a small piece of the end and discarding any brown leaves; cut each sprout in half, lengthwise. If sprouts are extremely small, leave whole. If sprouts are larger, cut into quarters.
In a large bowl, whisk together 3 tablespoons of the balsamic vinaigrette dressing with oil, garlic, salt, and pepper. Add the Brussels sprouts to the bowl and gently stir to coat. Dump the Brussels sprouts onto the prepared baking sheet and spread them into a single layer.
Cook for 10 minutes, stir and flip over the Brussels sprouts. Bake for 10 to 15 more minutes more until outside of brussels sprouts are crispy and insides are tender. Drizzle with the remaining 1 tablespoon balsamic vinaigrette and sprinkle with dried cranberries; gently toss to combine. Serve immediately.
Featured
Ingredients


What goes in Roasted Balsamic Brussels Sprouts?

Dried Cranberries

Garlic Cloves

Brussels Sprouts

Black Pepper
Nutritional Information
(Per Serving)
See complete nutrition facts >>
Comments