Roasted Cauliflower
Dairy-Free |
Quick & Easy |
Side Dishes |
Vegan |
Vegetarian
Roasting cauliflower with oil, garlic, and breadcrumbs brings out tons of toasty flavor in this superhero veggie.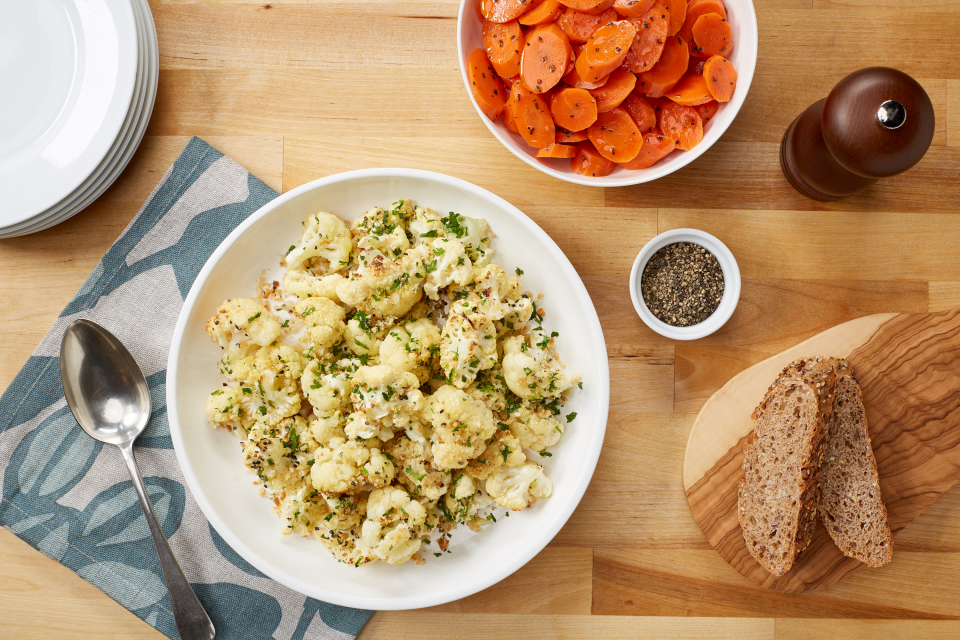 Temperature:
425 degrees
Serving size:
1 cup
Prep time:
10 minutes
Cook time:
35 minutes
Total time:
45 minutes
Equipment:

Cutting board

Measuring spoons

Measuring cups

Baking sheet

Utensils:

Knife
Non-stick spray
1 head cauliflower (about 6 cups)
2 1/2 tablespoons olive or vegetable oil
1/2 cup bread crumbs
1/4 teaspoon salt
1/4 teaspoon ground black pepper
1 1/2 teaspoons garlic powder
Instructions
Before you begin, wash your hands, surfaces, utensils, and vegetables.
Preheat oven to 425 degrees.
Spray baking sheet with non-stick spray.
Pile the cauliflower pieces in the middle of the baking sheet and drizzle with oil. Sprinkle with breadcrumbs, salt (if using), pepper, and garlic powder. Toss with tongs or your hands to combine.
Spread the cauliflower out in an even layer on the baking sheet.
Bake for 15 minutes, toss, and bake for an additional 20 minutes or until cauliflower starts to brown.
Tips
Chop the whole head of cauliflower at one time. Pack extra cauliflower florets in snack sized containers for lunches.
To makes your own bread crumbs, preheat oven to 300° F. Put two slices of bread on a cookie sheet. Bake the bread until it crumbles easily (about 15-20 minutes). Seal the bread slices in a plastic bag and crush the bread. Store leftover bread crumbs in an airtight container in the freezer.
Featured
Ingredients


What goes in Roasted Cauliflower?

Garlic Powder

Cauliflower
Nutritional Information
(Per Serving)
See complete nutrition facts >>
Comments