Roasted Veggies
Dairy-Free |
Gluten-Free |
Quick & Easy |
Side Dishes |
No Added Sugars |
Vegan |
Vegetarian
This flavor-packed option will be your go-to side to go with any meal.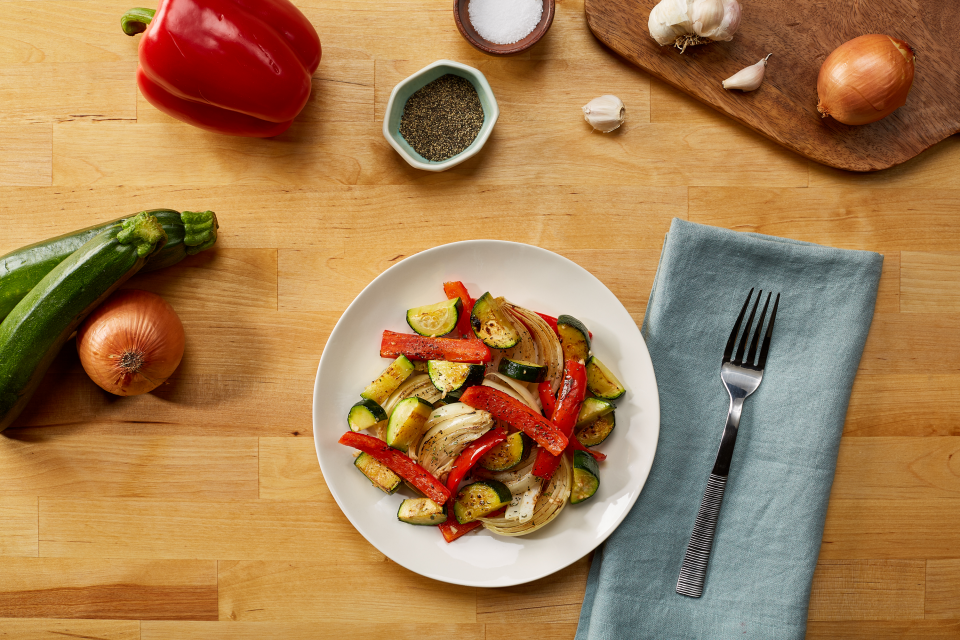 Temperature:
425 degrees
Serving size:
1 cup vegetables
Prep time:
5 minutes
Cook time:
30 minutes
Total time:
35 minutes
Equipment:

Cutting board

Sheet pan

aluminum foil or parchment paper

Utensils:

Knife

Measuring spoons
2 zucchini and/or yellow squash, cut into 1/2-inch slices
1 red or green bell pepper, cut into 1/2-inch slices
1 onion, cut into 1/2-inch slices
2 cloves garlic, minced
2 tablespoons olive or vegetable oil
1/2 teaspoon salt
1/4 teaspoon black pepper
1/2 teaspoon dried basil (optional)
1 tablespoon balsamic vinegar (optional)
Instructions
Before you begin, wash your hands, surfaces, utensils and vegetables.
Preheat oven to 425 degrees.
Line a baking sheet with aluminum foil or parchment paper. Pile vegetables in the middle of the baking sheet. Drizzle with oil and balsamic vinegar, if using. Sprinkle with garlic, salt, pepper, and basil, if using.
Toss using tongs or your hands until vegetables are coated in the oil mixture. Spread vegetables out into a single layer.
Roast vegetables for 20-30 minutes or until vegetables are tender.
Featured
Ingredients


What goes in Roasted Veggies?

Zucchini

Bell Pepper

Chopped Onions

Garlic Cloves

Yellow Summer Squash
Nutritional Information
(Per Serving)
See complete nutrition facts >>
Comments