Roasted Veggies
Dairy-Free |
Gluten-Free |
Quick & Easy |
Side Dishes |
No Added Sugars |
Vegan |
Vegetarian
This flavor-packed option will be your go-to side to go with any meal.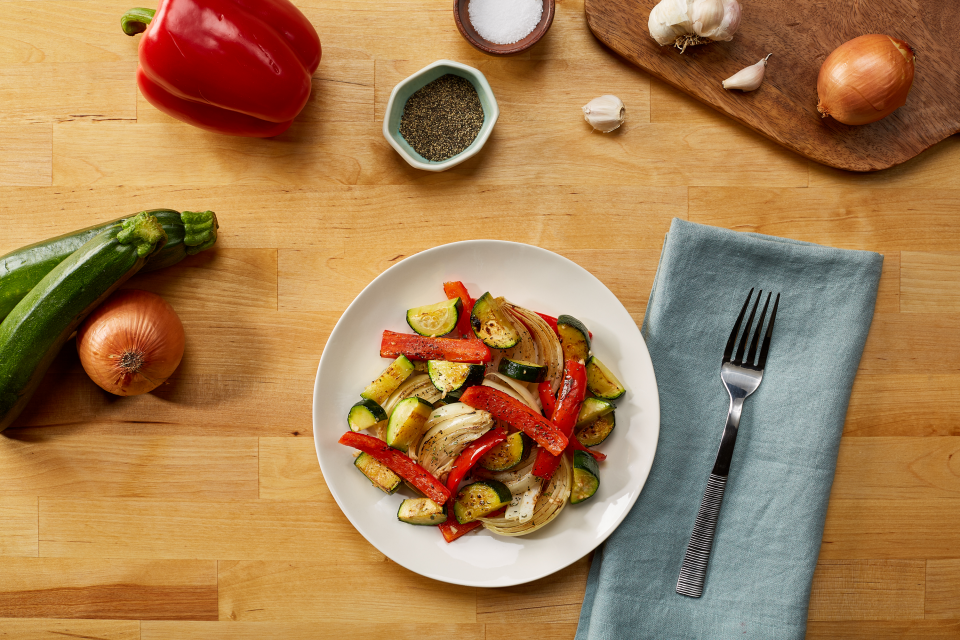 Temperature:
425 degrees
Serving size:
1 cup vegetables
Prep time:
5 minutes
Cook time:
30 minutes
Total time:
35 minutes
Equipment:

Cutting board

Sheet pan

Foil

Utensils:

Knife

Measuring spoons

Spatula or mixing spoon
2 zucchini and/or yellow squash, cut into 1/2-inch slices
1 red or green bell pepper, cut into 1/2-inch slices
1 onion, cut into 1/2-inch slices
2 cloves garlic, minced
2 tablespoons olive or vegetable oil
1/2 teaspoon salt
1/4 teaspoon black pepper
Optional: pinch of dry basil leaves and/or 2-3 teaspoons balsamic vinegar
Instructions
1. Before you begin, wash your hands, surfaces, utensils, and produce.
2. Preheat oven to 425 degrees. On a large sheet pan, combine vegetables, garlic, oil, salt, pepper and optional basil and balsamic vinegar. Toss until well combined and arrange vegetables in a single layer on pan.
3. Roast 20-30 minutes or until vegetables are tender.
Ingredients


What goes in Roasted Veggies?

Zucchini

Bell Pepper

Chopped Onions

Garlic Cloves

Yellow Squash
Nutritional Information
(Per Serving)
See complete nutrition facts >>
Comments