Savory Breakfast Grain Bowl
Breakfast |
Main Dishes |
Quick & Easy |
High in Fiber |
Vegetarian |
Nut-Free |
One-Two Serving
Start your day with something savory. This whole grain-packed bowl will keep you full all morning long.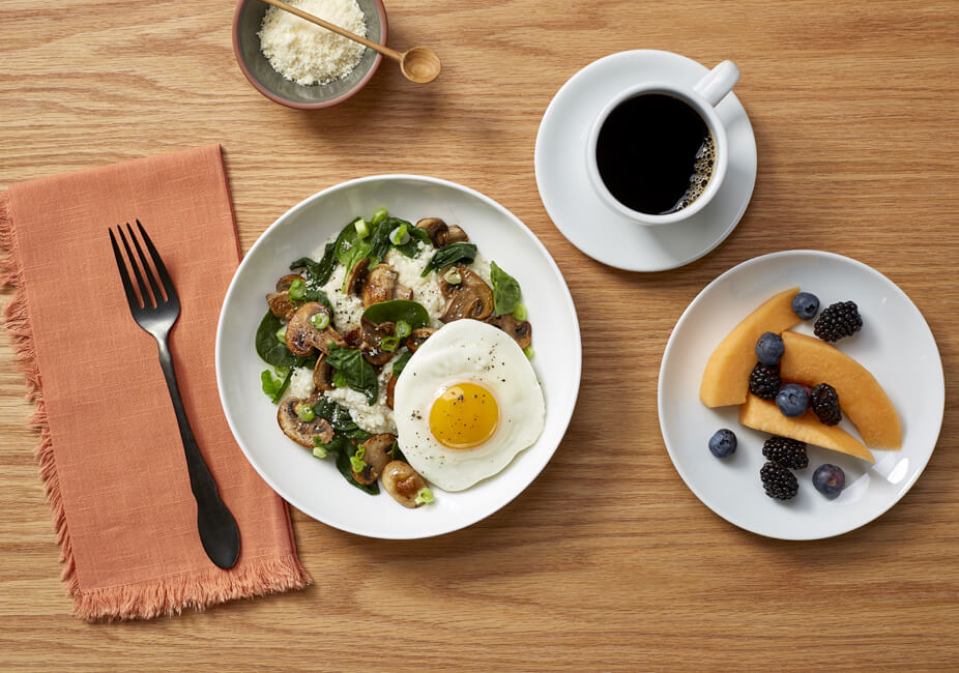 Temperature:
Medium-high heat
Serving size:
Entire recipe
Prep time:
5 minutes
Cook time:
15 minutes
Total time:
20 minutes
Equipment:

Medium bowl

Medium frying pan

Utensils:

Mixing spoon

Measuring cups and spoons
* Cost and availability of recipe ingredients may vary across different regions of Ohio. Cost per serving information should be used as a general guide when considering recipe cost.
1/4 cup uncooked grain (grits, steel cut oats, quinoa, or barley)
2 tablespoons grated Parmesan cheese
1 pinch salt
1 pinch black pepper
For Vegetable Topping:
1 tablespoon olive oil OR vegetable oil, divided
1/4 cup green onion, chopped (optional)
1 garlic clove, minced OR 1 teaspoon garlic powder
4 ounces mushrooms, halved
3 cups fresh spinach
1 large egg
Instructions
Before you begin, wash your hands, surfaces, utensils, and vegetables.
Cook the grain according to package directions. Stir in the Parmesan cheese. Season with a pinch of salt and a pinch of black pepper.
In a medium frying pan, heat 1/2 tablespoon of oil and add green onion (if using) and cook until the green onions begin to soften, about 2 minutes. Add the garlic and mushrooms and continue cooking until browned, about 5 more minutes. Mix in the spinach and continue to cook until wilted, about 1 more minute. Spoon the vegetables over the cooked grain and set aside to keep warm.
In the same frying pan, heat the remaining oil and fry the egg until the whites are set. Serve over the grain bowl.
Tips
Starting your day with whole grains is a great way to keep you full all morning and help you power through your day!
What's your favorite way to cook an egg? Try this recipe with eggs cooked your favorite way. This recipe is also great with sliced hard-boiled eggs.
Use vegetables you have on hand to try different flavors with this recipe.
Featured
Ingredients


What goes in Savory Breakfast Grain Bowl?

Spinach

Green onions

Eggs

Mushrooms
Grits
Nutritional Information
(Per Serving)
See complete nutrition facts >>
Comments