Veggie Pizza Bites
Gluten-Free |
Kid Approved |
Main Dishes |
Quick & Easy |
Snacks |
No Added Sugars |
High in Fiber |
Vegetarian |
WIC Friendly |
Egg-Free |
Nut-Free
Need to use up some veggies? Try this healthy alternative to traditional pizza.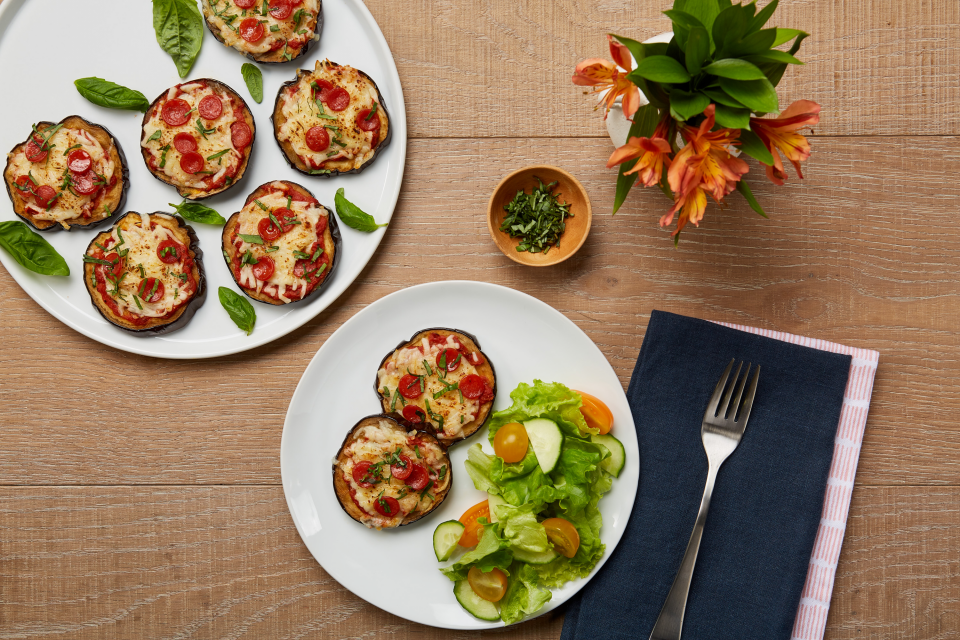 Temperature:
Broil
Serving size:
3-4 mini pizzas
Prep time:
10 minutes
Cook time:
10 minutes
Total time:
20 minutes
Equipment:

Cutting board

Baking sheet

Utensils:

Knife

Measuring cups and spoons
* Cost and availability of recipe ingredients may vary across different regions of Ohio. Cost per serving information should be used as a general guide when considering recipe cost.
1 eggplant OR large zucchini, sliced into 1/4-inch slices
1/8 teaspoon salt
1/8 teaspoon black pepper
1/3 cup tomato sauce
3/4 cup mozzarella cheese, shredded
Non-stick spray
1/2 cup miniature pepperoni slices (optional)
Fresh basil, minced (optional)
Instructions
Before you begin, wash your hands, surfaces, utensils, and produce.
Preheat broiler. Spray baking sheet with non-stick spray.
Arrange zucchini or eggplant slices in a single layer on baking sheet.
Broil 3-4 inches from the heating element for 2 minutes per side.
Remove from oven and sprinkle zucchini or eggplant with salt and black pepper. Top with tomato sauce, cheese, and pepperoni (if using).
Broil 3-4 minutes or until cheese is melted.
Remove pizzas from oven and sprinkle with basil (if using).
Featured
Ingredients


What goes in Veggie Pizza Bites?

Zucchini

Tomato Sauce

Eggplant

Mozzarella
Nutritional Information
(Per Serving)
See complete nutrition facts >>
Comments