Seasonal Salad
Dairy-Free |
Gluten-Free |
Quick & Easy |
Salads |
Side Dishes |
High in Fiber |
Vegan |
Vegetarian
Bursting with flavor and perfect with the fruit of your choice.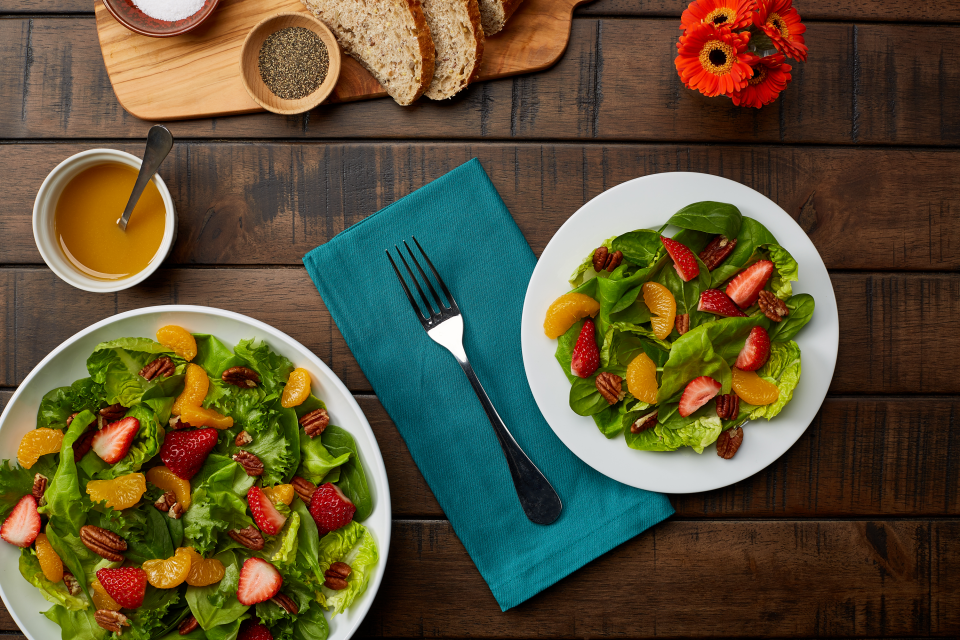 Serving size:
2 cups
Prep time:
10 minutes
Total time:
10 minutes
Equipment:

Cutting board

Large bowl

Small bowl

Utensils:

Knife

Measuring cups and spoons

Whisk or fork

Tongs or forks for salad tossing
For dressing:
1/3 cup vinegar (raspberry or balsamic)
1 teaspoon Dijon mustard
1/2 teaspoon salt
1 tablespoon sugar
1/2 cup oil, vegetable or olive
For salad:
1 pound salad greens (spinach, kale OR any type of lettuce), washed and patted dry, torn or chopped into bite size pieces
2 cups fruit, washed and cut into bite-size pieces (fresh strawberries or canned pears or mandarin oranges would all work. We recommend buying fruit according to what's in season)
1/2 cup nuts (pecans, cashews, peanuts OR sunflower seeds)
Instructions
1. Before you begin, wash your hands, surfaces, utensils, and produce.
2. In a large bowl, combine dressing ingredients and whisk together with a fork or whisk until well combined.
3. Add salad greens, fruit, and nuts to bowl. Gently toss together.
Tips
Add a protein for a complete meal. If you don't have time to make the dressing, a low-fat, store-bought dressing works too!
Ingredients


What goes in Seasonal Salad?

Green Leafy Vegetables

Strawberries

Canned Pears

Mandarin Oranges
Nutritional Information
(Per Serving)
See complete nutrition facts >>
Comments