Seasonal Salad
Dairy-Free |
Gluten-Free |
Quick & Easy |
Salads |
Side Dishes |
High in Fiber |
Vegan |
Vegetarian |
Egg-Free
Bursting with flavor and perfect with the fruit of your choice.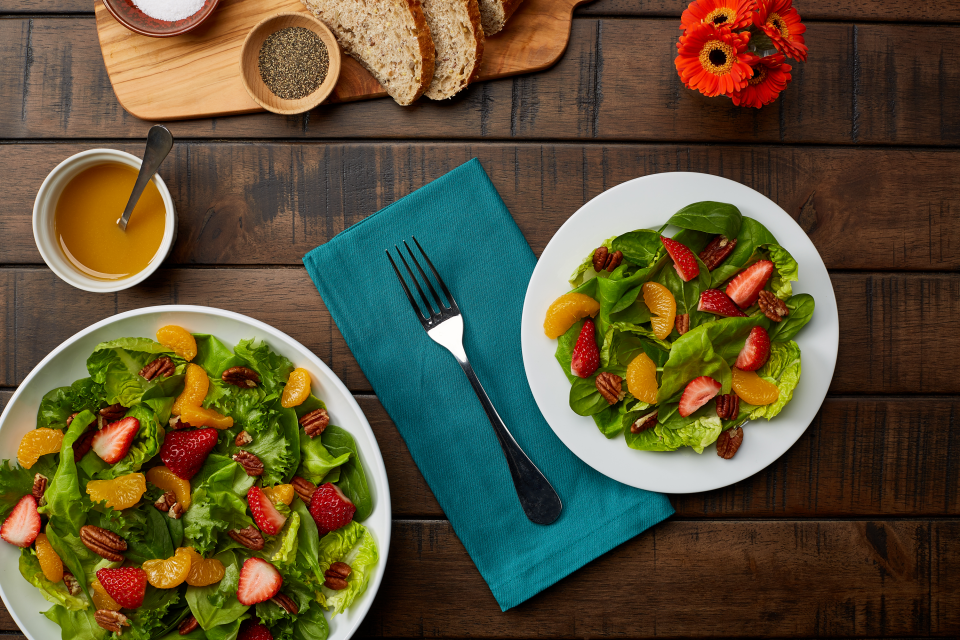 Temperature:
N/A
Serving size:
2 cups
Prep time:
10 minutes
Cook time:
N/A
Total time:
10 minutes
Equipment:

Cutting board

Large bowl

Utensils:

Knife

Measuring cups and spoons

Whisk or fork

Tongs or forks for salad tossing
* Cost and availability of recipe ingredients may vary across different regions of Ohio. Cost per serving information should be used as a general guide when considering recipe cost.
For dressing
1/3 cup vinegar (white, apple cider, balsamic, or red wine)
1 teaspoon Dijon mustard
1/2 teaspoon salt
1 tablespoon sugar OR honey
1/2 cup olive oil OR vegetable oil
For salad
1 pound salad greens (spinach, kale or any type of lettuce), patted dry and chopped
2 cups fruit, cut into bite-sized pieces (strawberries, pears, oranges, etc.)
1/2 cup unsalted nuts (pecans, cashews, peanuts), chopped OR 1/2 cup unsalted sunflower seeds
Instructions
Before you begin, wash your hands, surfaces, utensils, and produce.
In a large bowl, combine dressing ingredients and whisk together with a fork or whisk until well combined.
Add salad greens, fruit, and nuts to bowl. Gently toss together.
Tips
Looking to add some protein to this salad? Try using some shredded chicken, leftover beef, or beans for some extra protein and flavor!
If you don't have time to make the dressing, a low-fat, store-bought dressing works too!
Featured
Ingredients


What goes in Seasonal Salad?

Green Leafy Vegetables

Strawberries

Canned Pears

Mandarin Oranges
Nutritional Information
(Per Serving)
See complete nutrition facts >>
Comments