Seasoned Popcorn
Snacks |
Low Sodium |
Low Fat |
No Added Sugars |
Vegan |
Vegetarian
Add pop to your popcorn with chili and garlic seasonings. Serve in a brown paper bag for a rustic, classic touch.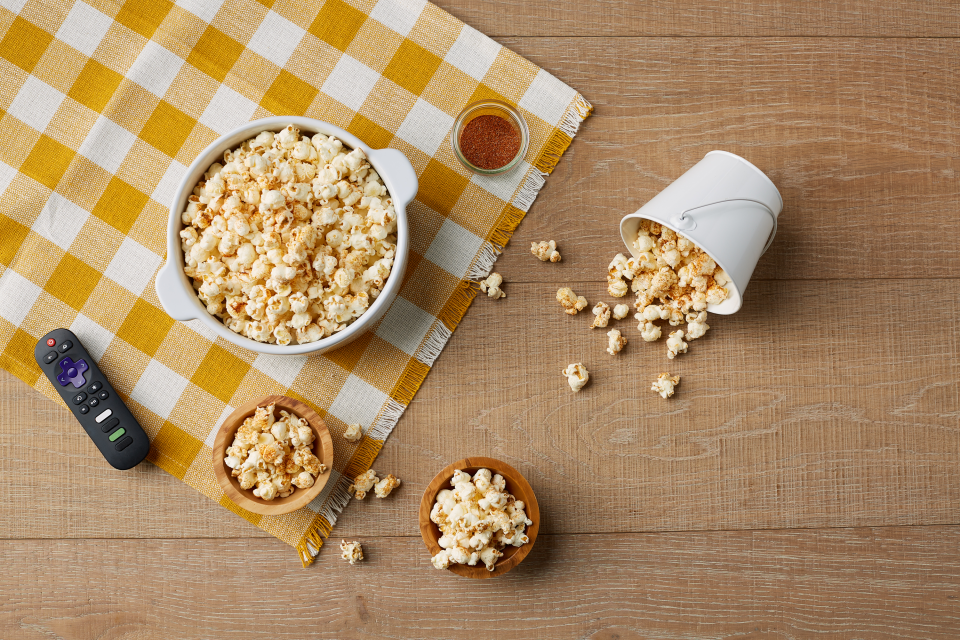 Serving size:
1 cup
Prep time:
5 minutes
Total time:
5 minutes
Equipment:

Large bowl

Measuring cups

Measuring spoons

Utensils:

Mixing spoon
Brown paper bags
Butter-flavored non-stick spray
4 cups popcorn, popped (~1/2 cup unpopped kernels)
1 teaspoon chili powder
1/8 teaspoon garlic powder
Instructions
1. Before you begin, wash your hands, surfaces, and utensils.
2. Add popped corn to a large bowl and spray with butter-flavored non-stick spray.
3. Sprinkle seasonings over popcorn and toss to combine.
Microwave cooking instructions:
1. Add ½ cup popcorn kernels to a brown paper lunch bag.
2. Fold the top of the bag over twice to seal it.
3. Microwave on high for 2 ½ - 3 minutes or until there are about 2 seconds between pops.
Stovetop cooking instructions:
1. Add two tablespoons of vegetable or olive oil and three popcorn kernels to a large pot, cover with a lid, and put on the stove over medium heat.
2. Wait until the kernels pop (this means the oil is ready), remove the pot from the heat, and remove the popped kernels from the oil.
3. Add ½ cup of popcorn kernels to the pot, shake gently to coat the kernels, return pot to the stove, and cover with lid.
4. When kernels start to pop tilt the lid slightly to allow the steam to escape.
5. Remove pot from heat when there are about 2-3 seconds between pops.
Featured
Ingredients


What goes in Seasoned Popcorn?

Garlic Powder

Chili Power
Popcorn
Nutritional Information
(Per Serving)
See complete nutrition facts >>
Comments