One-Minute Bean Burrito
Kid Approved |
Main Dishes |
Quick & Easy |
Snacks |
No Added Sugars |
High in Fiber |
WIC Friendly
Get your ingredients, put them together, and pop them in the microwave. One minute later, dinner is ready! It's that easy.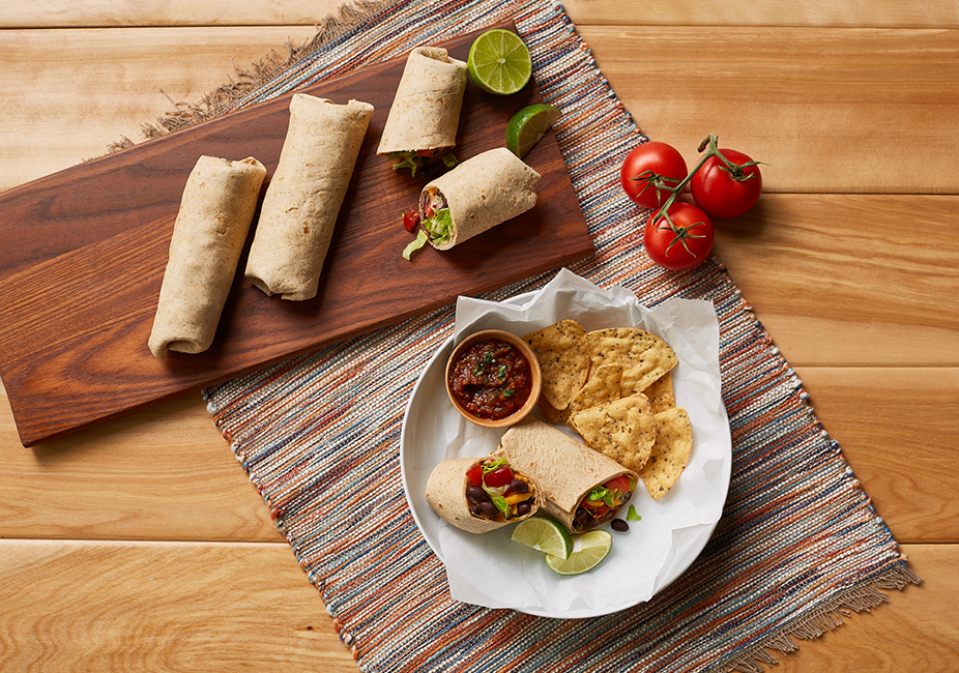 | | |
| --- | --- |
| Temperature: | High |
| Serving size: | 1 burrito |
| Prep time: | 10 minutes |
| Cook time: | 1 minute |
| Total time: | 11 minutes |
| Equipment: | Cutting board, can opener, measuring cups, microwave safe plate |
| Utensils: | Knife |
4 whole wheat tortillas
1 14 ounce can no salt added black beans, drained and rinsed OR low sodium refried beans
1/2 cup salsa
1/2 cup lettuce, chopped small
1/2 cup tomatoes, chopped small
2 ounces, about 1/2 cup low-fat shredded cheese
Instructions
1. Before you begin, wash your hands, surfaces, vegetables, tops of cans and utensils.
2. Spread 1/4 of the beans on each tortilla and top with 1/4 of the shredded cheese and salsa.
3. Arrange the flat tortillas on a large, microwave-safe plate and microwave for 60 seconds or until the beans are hot and cheese has started to melt.
4. Top the bean mixture with lettuce and tomato and close the burritos by folding in the left and right sides of the tortilla and then rolling the tortilla up from top to bottom.
Tips
No microwave? No problem! The bean burritos can be heated in a skillet on the stovetop or eaten at room temperature without heating.
Featured
Ingredients


What goes in One-Minute Bean Burrito?

Black Beans

Chopped Tomatoes

Whole Wheat Tortillas

Romaine Lettuce

Salsa
Nutritional Information
(Per Serving)
See complete nutrition facts >>
Comments