Shrimp Pad Thai
Dairy-Free |
Main Dishes |
Quick & Easy |
High in Fiber |
WIC Friendly
With less than 30 mins and just a few pantry essentials, you can make tasty Thai food in your own kitchen.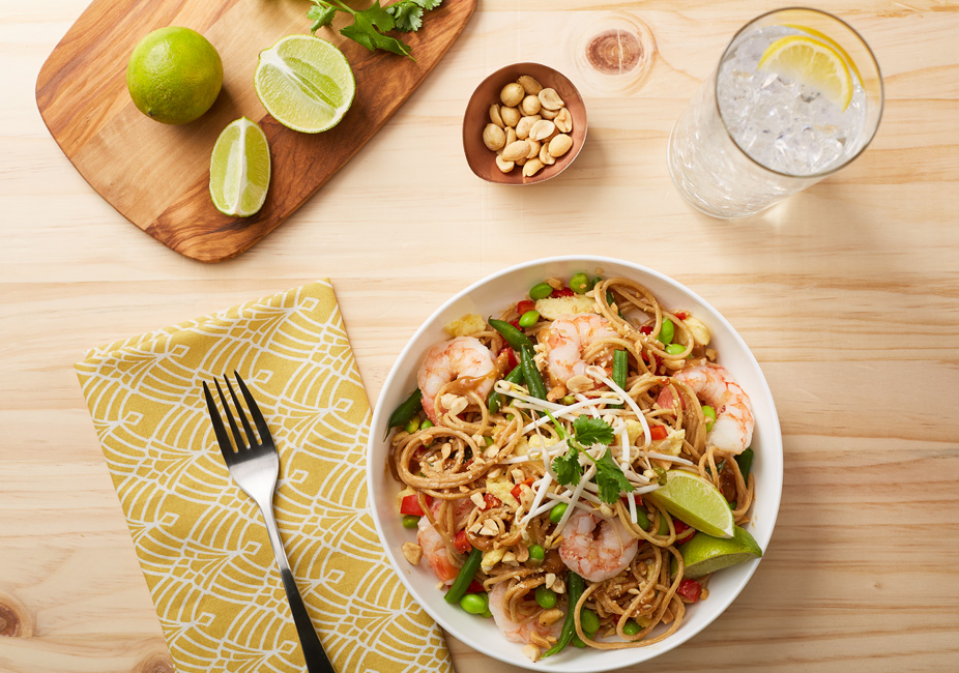 Temperature:
Medium-high heat
Serving size:
1 1/4 cups
Prep time:
10 minutes
Cook time:
20 minutes
Total time:
30 minutes
Equipment:

Medium pot or saucepan

Colander

2 small bowls

Large frying pan

Utensils:

Mixing spoon

Fork or whisk

Measuring cups and spoons
* Cost and availability of recipe ingredients may vary across different regions of Ohio. Cost per serving information should be used as a general guide when considering recipe cost.
6 ounces whole grain spaghetti
2 tablespoons olive oil OR vegetable oil, divided
1 24 ounce package frozen vegetable mix
3 tablespoons lite soy sauce
1/4 cup water
1/4 cup peanut butter
2 tablespoons sugar
1/2 pound of raw, frozen, deveined, tail-off shrimp
3 eggs
1/3 cup unsalted peanuts, chopped
Instructions
Before you begin, wash your hands, surfaces, and utensils.
Thaw shrimp according to package directions.
Cook spaghetti, in medium pot or saucepan, according to package directions. Drain in colander. Toss with 1 tablespoon oil.
Defrost vegetables in microwave for 5 minutes as spaghetti cooks.
Combine soy sauce, water, peanut butter, and sugar in a small bowl. Stir until smooth. Remove from frying pan and set aside.
Heat 1 tablespoon of oil in large frying pan over medium-high heat. Add shrimp, cook for 3-4 minutes or until pink. Remove from pan.
Crack eggs into a small bowl and beat with fork. Add to frying pan. Scramble until firm. Add vegetables and cooked spaghetti noodles to the pan. Stir to heat through. Add shrimp after heated.
Add soy sauce mixture to the frying pan. Stir to coat.
Garnish with peanuts and serve.
Tips
Make this recipe gluten free by using gluten-free soy sauce and rice noodles.
Featured
Ingredients


What goes in Shrimp Pad Thai?

Frozen Mixed Vegetables

Eggs

Peanut Butter

Tail-off Shrimp

Whole Wheat Spaghetti
Nutritional Information
(Per Serving)
See complete nutrition facts >>
Comments