Rise and Shine Breakfast Burrito
Breakfast |
Main Dishes |
Quick & Easy |
High in Fiber |
Vegetarian |
WIC Friendly |
Nut-Free
Flavorful refried beans are the secret to keeping this filling breakfast burrito neatly wrapped and ready to roll!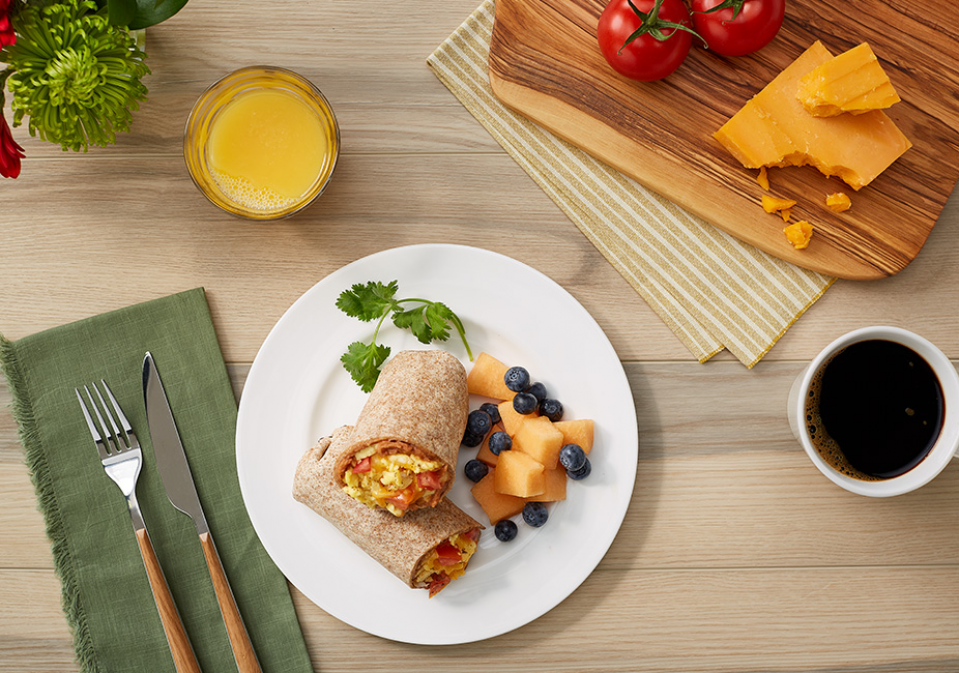 Temperature:
Medium-high heat
Serving size:
1 burrito
Prep time:
10 minutes
Cook time:
10 minutes
Total time:
20 minutes
Equipment:

Medium bowl

Frying pan

Medium saucepan or medium-sized microwave-safe bowl

Utensils:

Whisk or fork

Knife

Spatula

Measuring cups and spoons
* Cost and availability of recipe ingredients may vary across different regions of Ohio. Cost per serving information should be used as a general guide when considering recipe cost.
4 eggs
1/4 cup low-fat milk
Season to taste: salt, pepper, chili powder
1 teaspoon olive oil OR vegetable oil
4 large whole wheat tortillas, warmed
1 cup fat-free refried beans OR Celebrate Your Plate Five-Minute Refried Beans
1 cup cheddar cheese, shredded
1 medium tomato, chopped
Instructions
Before you begin, wash your hands, surfaces, utensils, tops of cans (if using canned refried beans), and produce.
Mix eggs, milk, salt, black pepper, and chili powder in a medium bowl.
Heat oil in frying pan over medium-high heat, or 250 degrees on an electric skillet.
Pour egg mixture into frying pan. Stir frequently with spatula, cooking until firm.
Warm the refried beans in a medium saucepan--or microwave in a microwave-safe bowl--until warmed through.
On each tortilla, layer 1/4 of refried beans, eggs, cheese, and tomato.
Roll the burrito and cut in half.
Featured
Ingredients


What goes in Rise and Shine Breakfast Burrito?

Chopped Tomatoes

Low-fat Milk

Eggs

Refried Beans

Shredded Cheddar Cheese
Nutritional Information
(Per Serving)
See complete nutrition facts >>
Comments