Smoothie Bowl
Breakfast |
Gluten-Free |
Kid Approved |
Quick & Easy |
Snacks |
Low Sodium |
Low Fat |
No Added Sugars |
Vegetarian |
WIC Friendly |
Egg-Free |
Nut-Free
The secret to nailing this super creamy smoothie is to mix everything on low.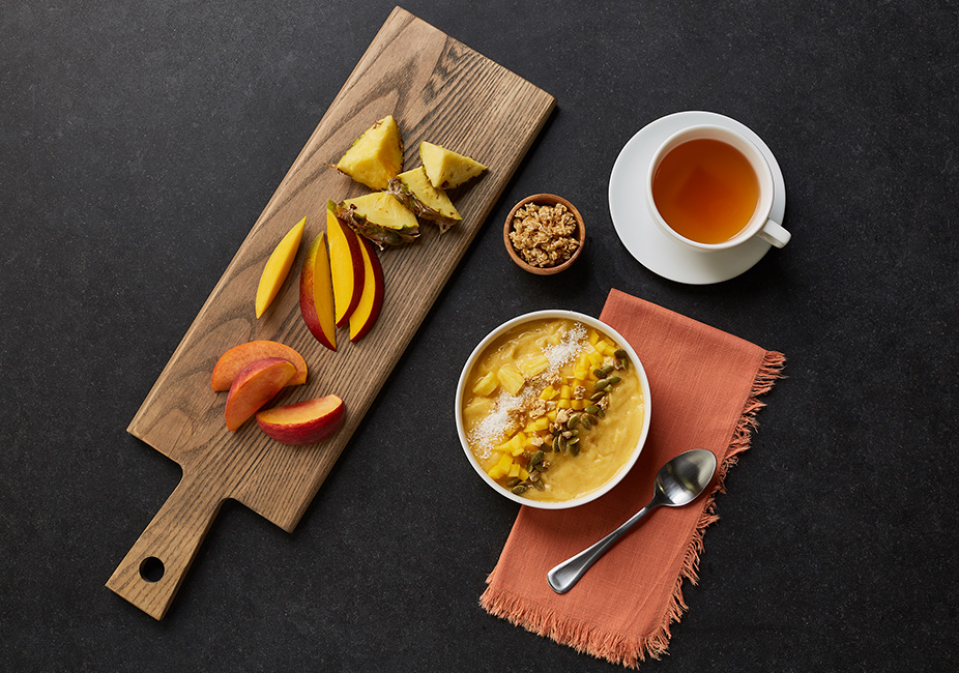 Temperature:
N/A
Serving size:
Entire recipe
Prep time:
10 minutes
Cook time:
N/A
Total time:
10 minutes
Equipment:

Cutting board

Blender

Bowl

Utensils:

Knife

Measuring cups and spoons
* Cost and availability of recipe ingredients may vary across different regions of Ohio. Cost per serving information should be used as a general guide when considering recipe cost.
1/2 cup low-fat milk OR low-fat yogurt
1 cup frozen fruit
1 frozen banana
1 cup fresh kale OR spinach (optional)
1 cup ice
Optional toppings: sliced fresh fruit, nuts, granola, shredded unsweetened coconut, etc.
Suggested Flavor Ideas:
Tropical: Try using orange juice instead of milk or yogurt. Use fruits such as mango, pineapple, or peaches.
Peanut butter chocolate: In place of frozen fruit, use an additional frozen banana, for a total of 2 bananas. Also, add 1 tablespoon cocoa powder and 2 tablespoons peanut butter.
Mixed berry: Try using different frozen berries, or even a frozen berry mix. We suggest blueberries, raspberries, and/or strawberries.
Instructions
Before you begin, wash your hands, surfaces, fresh fruit (if using), and utensils.
Combine all ingredients except toppings in the pitcher of blender. Blend on low speed until combined, mixture will be thick. If needed, stop blending, remove blender pitcher from the base, and stir carefully to redistribute ingredients.
Transfer smoothie mix to a bowl and sprinkle with toppings.
Tips
You will need a powerful blender--these are thicker than a typical smoothie.
Peel bananas before freezing.
Featured
Ingredients


What goes in Smoothie Bowl?

Spinach

Low-fat Yogurt

Frozen Fruit

Banana

Ice
Nutritional Information
(Per Serving)
See complete nutrition facts >>
Comments