Spaghetti Squash
Dairy-Free |
Main Dishes |
Low Sodium |
No Added Sugars |
Vegan |
Vegetarian |
One-Two Serving
This fiber-filled, vitamin-packed "pasta" pairs perfectly with your favorite sauce.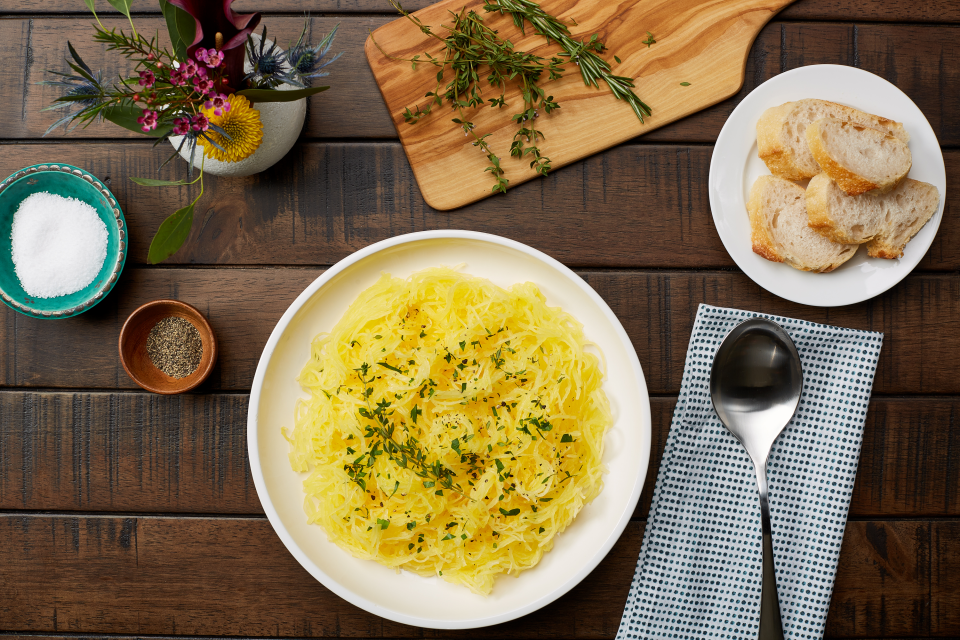 1 hour and 10 minutes
Total Time
Temperature:
Oven - 400 degrees, Microwave - High
Serving size:
1 1/2 cups
Prep time:
10 minutes
Cook time:
1 hour
Total time:
1 hour and 10 minutes
Equipment:

Cutting board

Large baking sheet

Utensils:

Small, sharp knife

Large, sharp knife

Spoon

Fork
1 medium or large spaghetti squash
2 teaspoons oil, vegetable or olive
Salt and pepper to taste
Instructions
1. Before you begin, wash your hands, surfaces, utensils, and produce.
2. Preheat oven to 400 degrees.
3. Pierce skin of spaghetti squash 10-12 times with a small, sharp knife.
4. Microwave spaghetti squash on high for 6 minutes.
5. Remove spaghetti squash from microwave and carefully cut off very top and bottom of squash so that it can stand upright. Use caution: squash will be hot.
6. Stand squash upright on a stable surface and carefully slice through from top to bottom to divide it into two halves.
7. Use a spoon to scoop out seeds and discard. Place halves on large baking sheet, cut side up.
8. Drizzle halves of squash with olive oil and sprinkle with salt and pepper.
9. Place squash cut side down on the baking sheet.
10. Bake 40-60 minutes or until squash is very tender when pierced with a fork.
11. Allow squash to cool for 5 minutes and then drag a fork down interior of the squash, separating the "spaghetti" strands. Using a large spoon scrape the squash strands in a bowl.
12. Toss squash strands with your favorite pasta sauce and serve.
Ingredients


What goes in Spaghetti Squash?

Olive Oil

Yellow Squash
Nutritional Information
(Per Serving)
See complete nutrition facts >>
Comments