Salt-Free All-Purpose Seasoning
Dairy-Free |
Gluten-Free |
Quick & Easy |
Low Sodium |
Low Fat |
No Added Sugars |
Vegan |
Vegetarian |
Other |
Egg-Free |
Nut-Free
An easy, heart-healthy way to add flavor – sprinkle this all-purpose seasoning on everything from chicken to veggies!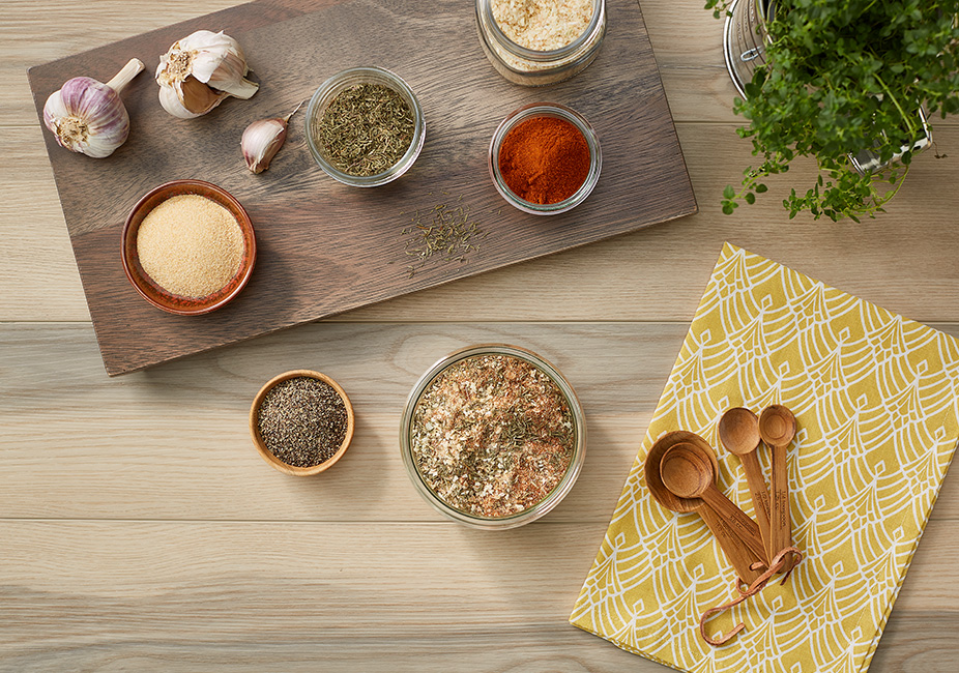 Temperature:
N/A
Serving details:
About 60-70
Serving size:
1 teaspoon, or as needed for a certain dish
Prep time:
5 minutes
Cook time:
N/A
Total time:
5 minutes
Equipment:

Small bowl

Airtight container with lid

Utensils:

Measuring spoons

Spoon
* Cost and availability of recipe ingredients may vary across different regions of Ohio. Cost per serving information should be used as a general guide when considering recipe cost.
2 tablespoons onion powder
4 cloves garlic, minced OR 4 teaspoons garlic powder
1 tablespoon paprika
1 1/2 teaspoons ground thyme
1/4 teaspoon black pepper
Instructions
Before you begin, wash your hands, surfaces, and utensils.
Mix all ingredients in a small bowl, using a spoon.
Place mix into a container that allows you to shake to dispense.
Tips
Store leftovers in airtight container at room temperature for up to six months.
Featured
Ingredients


What goes in Salt-Free All-Purpose Seasoning?

Garlic Powder

Onion Powder

Paprika

Thyme

Black Pepper
Nutritional Information
(Per Serving)
See complete nutrition facts >>
Comments