Yogurt Fruit Pops
Desserts |
Gluten-Free |
Kid Approved |
Quick & Easy |
Snacks |
Low Sodium |
Low Fat |
No Added Sugars |
Vegetarian |
WIC Friendly |
Egg-Free |
Nut-Free
Use fruit to make frozen treats for the entire family.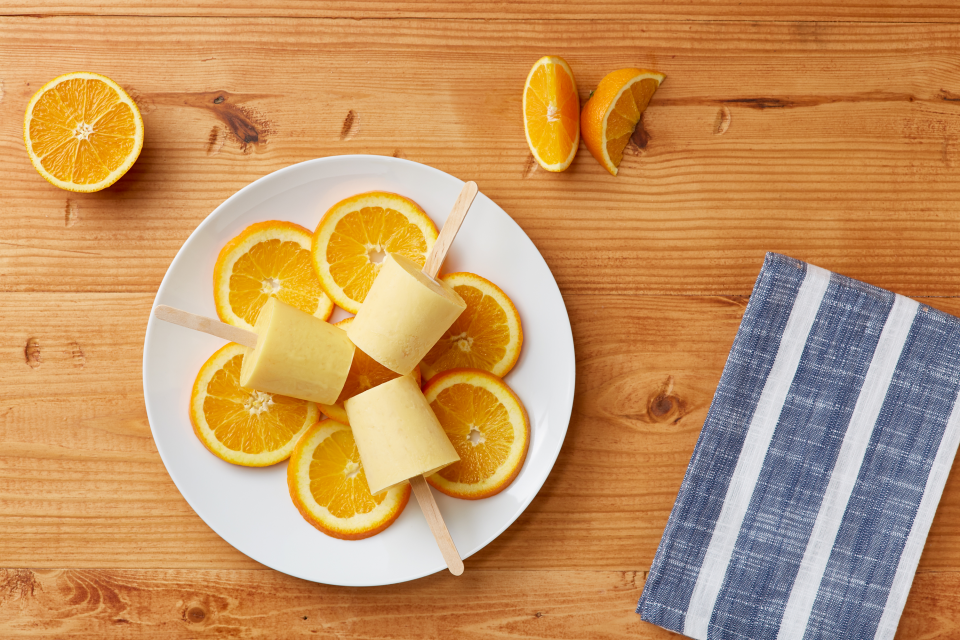 15 minutes, 5 hours freezing time
Total Time
Temperature:
N/A
Serving size:
One 1/2 cup pop
Prep time:
15 minutes
Cook time:
N/A, 5 hours freezing time
Total time:
15 minutes, 5 hours freezing time
Equipment:

Large mixing bowl

Can opener

Paper cups

Wooden popsicle sticks

Utensils:

Large spoon

Measuring cups
* Cost and availability of recipe ingredients may vary across different regions of Ohio. Cost per serving information should be used as a general guide when considering recipe cost.
1 20 ounce can crushed pineapple in juice, drained
2 cups (plain or vanilla) low-fat yogurt
12 ounces frozen orange juice concentrate, slightly thawed
Instructions
Before you begin, wash your hands, surfaces, utensils, and tops of cans.
Mix all ingredients in a large mixing bowl.
Divide mixture into 10 paper cups.
Freeze until slushy, about 60 minutes. Put a popsicle stick into the center of each cup.
Freeze until hard, or for at least an additional 4 hours. Peel away the paper cup to eat the fruit pop.
Tips
You can also use small glasses or freezable popsicle molds to freeze the pops.
Try other fresh or canned fruit (packed in 100% juice) mashed into small pieces or chopped in a blender.
This recipe also tastes great with other fruit juices that you might have on hand!
You can make this recipe with any yogurt you have on hand! Try using Greek yogurt for an extra boost of calcium and protein.
Featured
Ingredients


What goes in Yogurt Fruit Pops?

Low-fat Yogurt

Pineapple

Orange Juice
Nutritional Information
(Per Serving)
See complete nutrition facts >>
Comments