Vegetable Frittata
Breakfast |
Gluten-Free |
Main Dishes |
Low Sodium |
No Added Sugars |
Vegetarian |
WIC Friendly
Enjoy this hot out of the oven for an amazingly delicious and veggie-packed meal.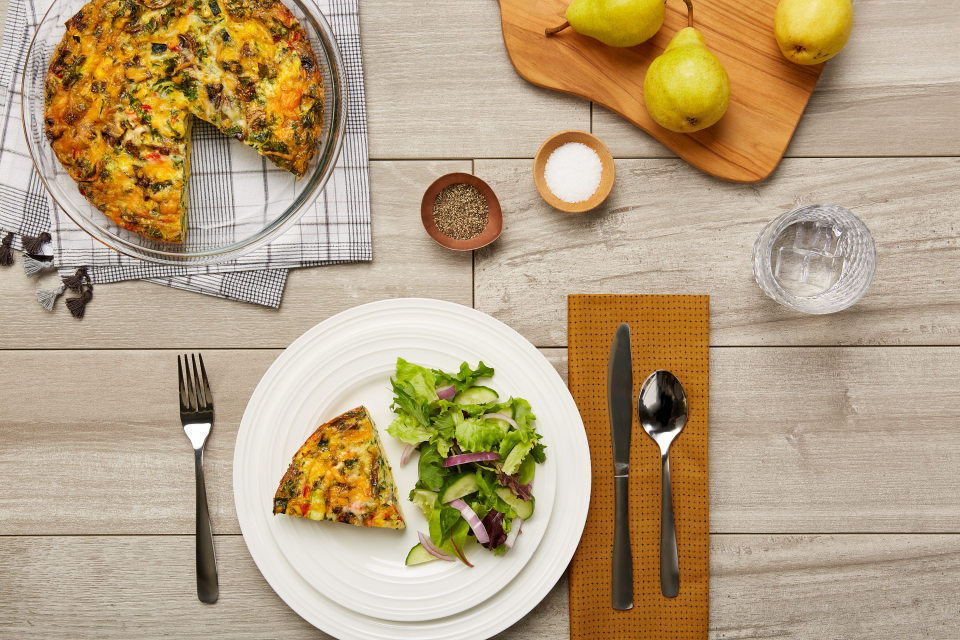 Temperature:
350 degrees
Serving size:
1/9 of the frittata
Prep time:
10 minutes
Cook time:
35-45 minutes
Total time:
45-55 minutes
Equipment:

Cutting board

Pie pan or 9" square baking dish

Medium bowl

Utensils:

Knife

Fork or whisk

Measuring cups
Non-stick spray
8 large eggs
1/4 teaspoon pepper
1/4 teaspoon garlic powder
2 cups Frittata friendly vegetables cut into ½ inch pieces: (Corn, chopped broccoli, cauliflower, zucchini, mushrooms, baby spinach or shredded kale)
1/2 cup shredded cheddar cheese
1/4 cup chopped fresh herbs (basil, parsley, cilantro) or 1 teaspoon dried basil or oregano
Instructions
1. Before you begin wash your hands, surfaces, utensils, and vegetables.
2. Preheat oven to 350 degrees. Lightly spray the pie pan or baking dish with non-stick spray
3. Crack the eggs in the bowl, add pepper and garlic powder and use a fork or whisk to beat the eggs until they are pale yellow.
4. Add the vegetables, cheese, and herbs and mix.
5. Pour the mixture into the baking pan and put the pan in the oven.
6. Bake for 35 to 45 minutes until the top is golden and the eggs are set and no longer jiggling.
Featured
Ingredients


What goes in Vegetable Frittata?

Canned Corn

Broccoli

Cauliflower

Eggs

Parsley
Nutritional Information
(Per Serving)
See complete nutrition facts >>
Comments