Vegetarian Chili
Dairy-Free |
Gluten-Free |
Main Dishes |
Soups |
Low Sodium |
Low Fat |
No Added Sugars |
High in Fiber |
Vegan |
Vegetarian |
WIC Friendly |
Egg-Free |
Nut-Free
Full of healthy veggies and beans, this chili will leave you oh-so satisfied.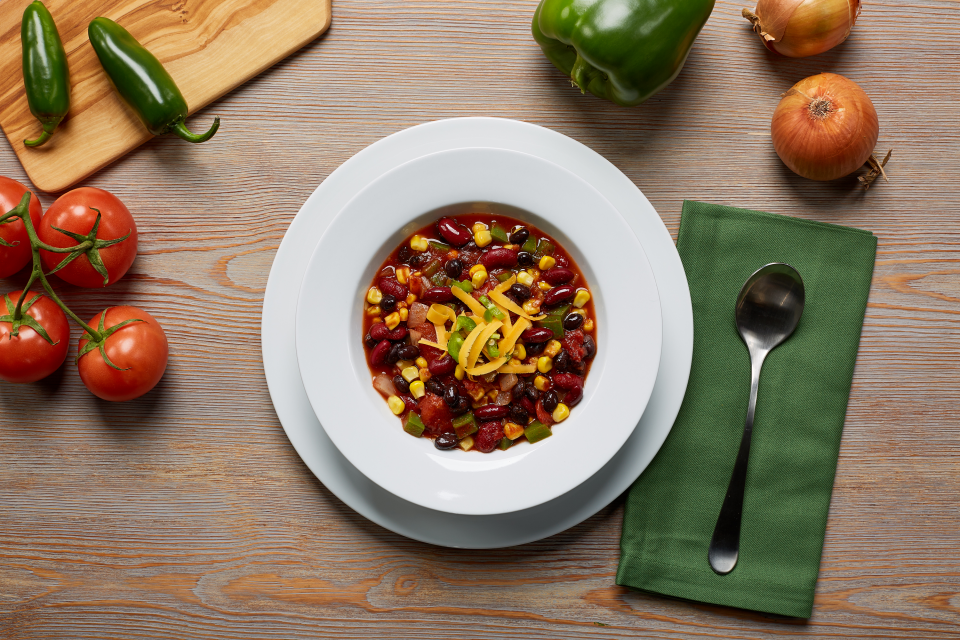 Temperature:
Medium heat, High heat, Simmer
Serving size:
1 cup
Prep time:
30 minutes
Cook time:
30 minutes
Total time:
1 hour
Equipment:

Cutting board

Large pot

Can opener

Utensils:

Knife

Spatula

Mixing spoon

Measuring cups and spoons
* Cost and availability of recipe ingredients may vary across different regions of Ohio. Cost per serving information should be used as a general guide when considering recipe cost.
Non-stick spray
1 onion, diced
2 green bell peppers, diced
1 14.5 ounce can no salt added whole tomatoes with liquid
2 15 ounce cans no salt added black beans, drained and rinsed
1 15 ounce can no salt added corn, drained and rinsed OR 1 1/4 cups frozen corn
1 15.5 ounce can no salt added kidney beans, rinsed and drained
1 6 ounce can tomato paste
1 1/2 teaspoons chili powder
1 teaspoon cayenne pepper
1/2 teaspoon ground cinnamon (optional)
2 cups water
Instructions
Before you begin, wash your hands, surfaces, utensils, tops of cans, and produce.
Spray a large pot with non-stick spray.
Add onion and peppers to pot and cook over medium heat until they begin to soften.
Add remaining ingredients, stir to combine, and bring to a boil.
Reduce heat and simmer for about 30 minutes, stirring occasionally.
Featured
Ingredients


What goes in Vegetarian Chili?

Black Beans

Bell Pepper

Chopped Onions

Canned Kidney Beans

Canned Whole Tomatoes
Nutritional Information
(Per Serving)
See complete nutrition facts >>
Comments