Zucchini Meatballs
Kid Approved |
Main Dishes |
Low Sodium |
No Added Sugars |
Nut-Free
Try these with whole wheat pasta or with veggies on the side.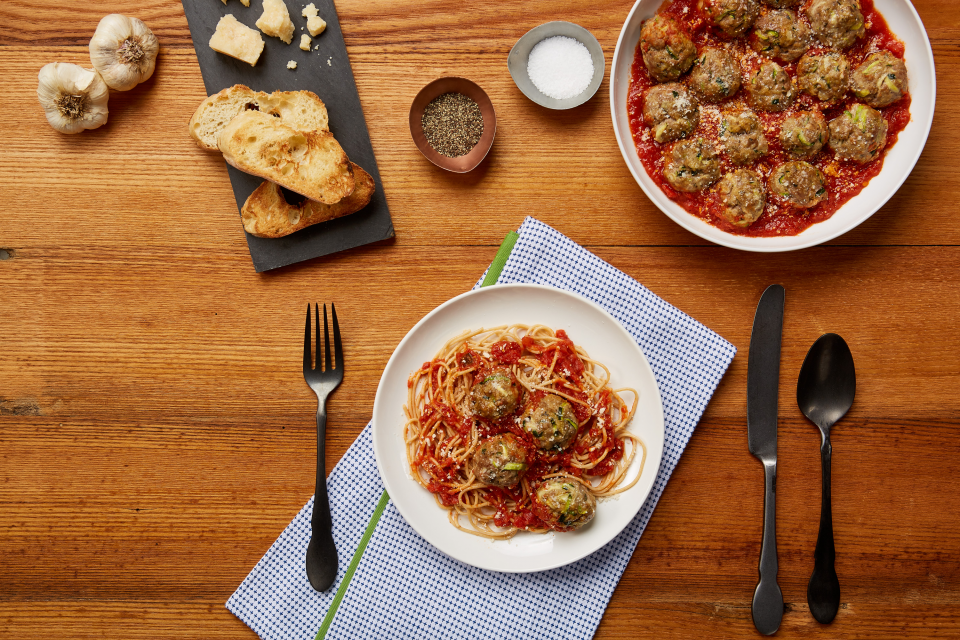 Temperature:
400 degrees
Serving size:
4 meatballs
Prep time:
15 minutes
Cook time:
20 minutes
Total time:
35 minutes
Equipment:

Grater

Cutting board

Large bowl

Baking sheet

Aluminum foil

Utensils:

Tablespoon for shaping meatballs

Mixing spoon

Measuring cups and spoons
* Cost and availability of recipe ingredients may vary across different regions of Ohio. Cost per serving information should be used as a general guide when considering recipe cost.
2 cups zucchini (about 1 large or 2 small zucchinis), finely shredded
1 pound lean (85% or leaner) ground beef
1 egg, slightly beaten
1/4 cup bread crumbs
1/4 cup grated Parmesan cheese
1/4 cup onion, finely grated or minced
2 cloves garlic, minced OR 2 teaspoons garlic powder
1 teaspoon Italian seasoning OR Celebrate Your Plate Italian Seasoning
Instructions
Before you begin, wash your hands, surfaces, utensils, and produce.
Preheat oven to 400 degrees.
Combine all ingredients in a large bowl.
Divide mixture into 24, 1 1/2-inch meatballs. Shape meatballs using a tablespoon, or by rolling with hands.
Place meatballs on baking sheet lined with aluminum foil.
Cook for 10 minutes, flip meatballs, then cook for another 10 minutes.
Tips
Meatballs will release a lot of moisture when cooking. If you prefer drier meatballs, squeeze some (but not all) liquid from shredded zucchini.
Featured
Ingredients


What goes in Zucchini Meatballs?

Zucchini

Chopped Onions

Garlic Cloves

Eggs

Lean Ground Beef
Nutritional Information
(Per Serving)
See complete nutrition facts >>
Comments