Zucchini Noodles
Dairy-Free |
Gluten-Free |
Main Dishes |
Quick & Easy |
Side Dishes |
Low Fat |
No Added Sugars |
Vegan |
Vegetarian |
WIC Friendly |
Egg-Free |
Nut-Free
Delicious, healthy, a fun new way to enjoy "pasta."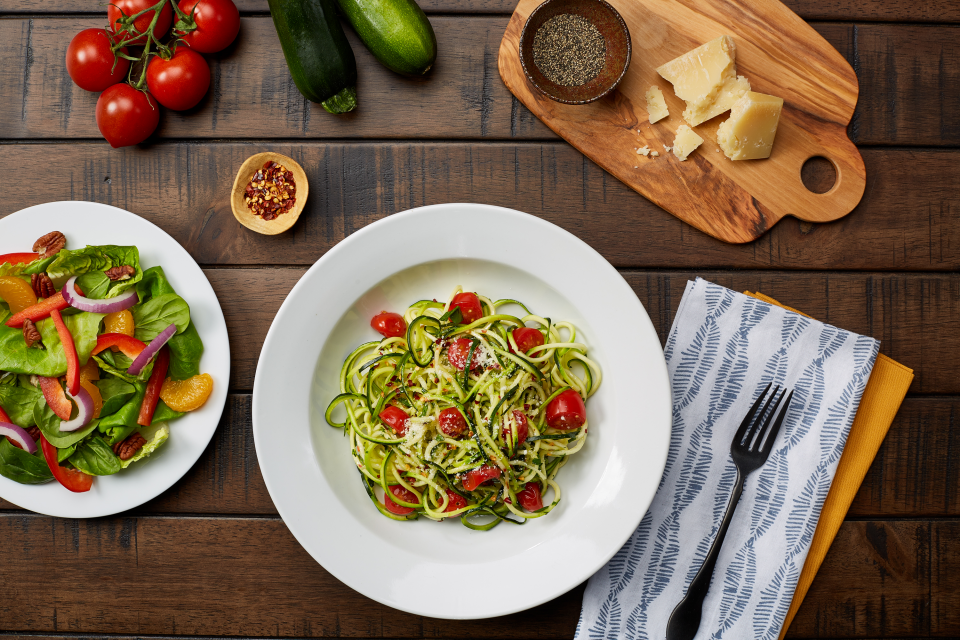 Temperature:
200 degrees
Serving size:
1 cup
Prep time:
15 minutes
Cook time:
30 minutes
Total time:
45 minutes
Equipment:

Baking sheet

Paper towels

Grater with large holes

Utensils:

Measuring cups
* Cost and availability of recipe ingredients may vary across different regions of Ohio. Cost per serving information should be used as a general guide when considering recipe cost.
2 large zucchinis (about 4 small zucchinis)
Coarse kosher salt
1 24 ounce jar tomato sauce (optional)
Instructions
Before you begin, wash your hands, surfaces, utensils, and produce.
Preheat oven to 200 degrees.
Using side of grater with large holes, drag long side of a zucchini down grater in a long, smooth motion. Make sure to grate zucchini longways so that you end up with long noodles instead of short pieces.
Grate the same area of the zucchini several times and then rotate to a new side and grate again, working around zucchini until you are left with a seedy core. Discard core and repeat with remaining zucchini.
Place zucchini noodles on a paper towel-lined baking sheet. Sprinkle with coarse salt and bake in preheated oven for 30 minutes.
Remove zucchini noodles from oven. Serve with tomato sauce that has been heated.
Tips
You can use a vegetable peeler for wider noodles.
Spiralizers create vegetable noodles. Hand-held spiralizers can even create fun shapes!
If you're in a hurry, you can skip the oven step, but it will result in a lot more moisture in the final dish.
Featured
Ingredients


What goes in Zucchini Noodles?

Zucchini
Nutritional Information
(Per Serving)
See complete nutrition facts >>
Comments