Egg and Veggie Breakfast Sammie
Breakfast |
Kid Approved |
Main Dishes |
Quick & Easy |
High in Fiber |
Vegetarian |
WIC Friendly |
Nut-Free
Start your day with the sandwich that has it all—fluffy eggs, savory veggies, creamy avocado, and melty cheese. Mmmm.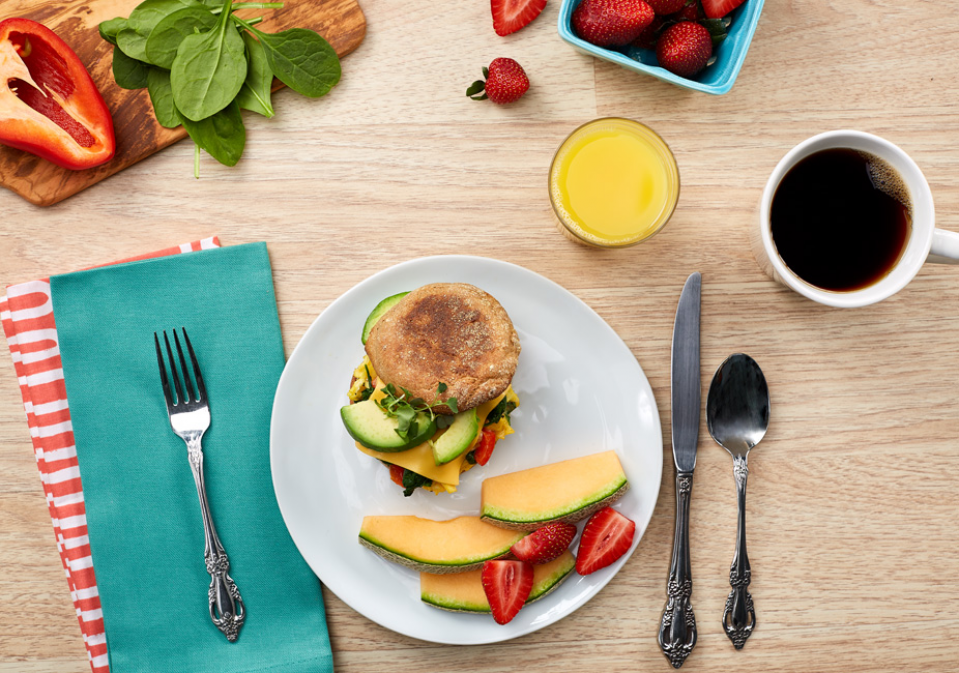 Temperature:
Medium heat
Serving size:
1 close-faced sandwich
Prep time:
15 minutes
Cook time:
8 minutes
Total time:
23 minutes
Equipment:

Medium bowl

Non-stick frying pan with lid

Utensils:

Whisk or fork

Spatula

Knife

Measuring cups and spoons
* Cost and availability of recipe ingredients may vary across different regions of Ohio. Cost per serving information should be used as a general guide when considering recipe cost.
1 teaspoon olive oil OR vegetable oil
1/4 cup fresh spinach, packed into measuring cup
2 tablespoons red bell pepper, chopped
1 egg
Salt to taste
Black pepper to taste
1 whole wheat English muffin
1 slice reduced fat cheese
1/4 avocado, sliced
Instructions
Before you begin, wash your hands, surfaces, produce, and utensils.
Heat a non-stick frying pan over medium heat. Add oil to frying pan. Sauté spinach and red bell pepper for 3 minutes, or until spinach is wilted.
Remove vegetable mixture from heat, and place into medium bowl. Crack egg into bowl, and whisk together with spinach, red bell pepper, salt, and black pepper.
Pour egg mixture into pan and scrape together to form the shape of a small circular patty. Cover the pan and cook for 3 minutes until egg mixture has set on the bottom.
If you prefer a toasted muffin sandwich, place English muffin in toaster to heat. Use a spatula to flip the egg and cook for another 3 minutes, until cooked through.
Place the egg patty on the English muffin and top with cheese and sliced avocado.
Tips
Try using your leftover avocado in the CYP Avocado Chicken Salad
To preserve the remaining avocado cover with a few drops of lime or lemon juice to prevent browning, and store in an airtight container for up to 48 hours.
Featured
Ingredients


What goes in Egg and Veggie Breakfast Sammie?

Spinach

Bell Pepper

Avocado

Eggs
Whole Wheat English Muffin
Nutritional Information
(Per Serving)
See complete nutrition facts >>
Comments