Apple Corn Chili
Dairy-Free |
Gluten-Free |
Main Dishes |
Soups |
No Added Sugars |
High in Fiber |
Egg-Free |
Nut-Free
This quick and easy chili may be lower in fat and sodium than traditional chili, but it's still packed full of flavor and comfort!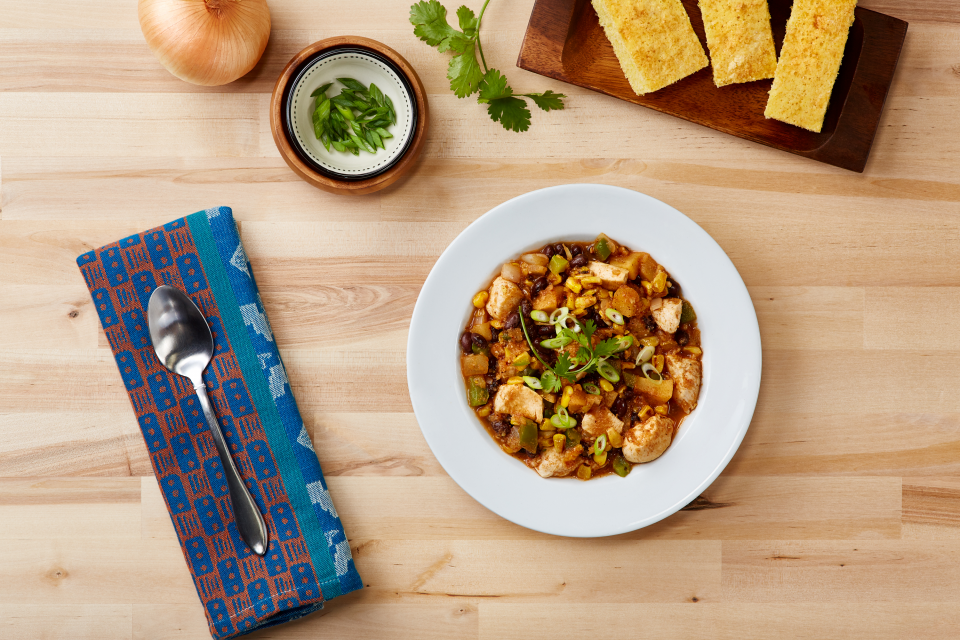 Temperature:
Medium-high/simmer
Serving size:
1 cup
Prep time:
15 minutes
Cook time:
35 minutes
Total time:
50 minutes
Equipment:

Large pot

Utensils:

Knife

Spatula or wooden spoon

Measuring cups and spoons

Potato masher or fork
* Cost and availability of recipe ingredients may vary across different regions of Ohio. Cost per serving information should be used as a general guide when considering recipe cost.
2 tablespoons olive oil OR vegetable oil, divided
8 ounces boneless skinless chicken breast, cut in 1/2 inch cubes
1 medium onion, chopped
2 cloves garlic, minced OR 2 teaspoons garlic powder
1 teaspoon ground cumin (optional)
1/4 teaspoon cayenne pepper (optional)
1 15 ounce can no salt added corn, drain liquid into small bowl or cup
2 medium red apples, chopped into 1/2 inch pieces
1 15 ounce can no salt added black beans, drained and rinsed
1 4.5 ounce can diced green chile peppers, drained
2 cups low-sodium chicken stock
Optional toppings:
1/4 cup light sour cream
1/4 cup fresh cilantro, chopped
1/4 cup green onion, chopped
Instructions
Before you begin, wash your hands, surfaces, utensils, fruits, and vegetables.
In a large pot, heat 1 tablespoon of oil over medium-high heat until oil simmers.
Add chicken, stirring occasionally, until golden brown, about 7 minutes. Remove chicken and put in small bowl.
Heat 1 tablespoon of oil in the pot. Sauté onions for about 4 minutes.
Add garlic, cumin and cayenne pepper, if using.
Add corn. Cook until corn is golden brown.
Add apples and cook until apples can easily be mashed with a fork, 10-15 minutes.
Use a fork or potato masher to stir the onion, apple, and corn mixture. Add liquid from the corn and stir to make a thick sauce.
Add 2 cups of chicken stock, stir to combine and increase heat to bring the pot to a simmer.
Add black beans, chilies, and chicken. Simmer for an additional 5 minutes.
Tips
Pair this recipe with the Celebrate Your Plate Confetti Cornbread. Try these dishes together for a more balanced meal!
Make this recipe vegetarian by using an additional can of beans in place of chicken and substitute water or vegetable stock in place of bouillon.
Featured
Ingredients


What goes in Apple Corn Chili?

Black Beans

White Onion

Sliced Apples

Corn

Chicken Breast
Nutritional Information
(Per Serving)
See complete nutrition facts >>
Comments