Homemade Tomato Sauce
Dairy-Free |
Gluten-Free |
Kid Approved |
Main Dishes |
Quick & Easy |
No Added Sugars |
Vegan |
Vegetarian
Enjoy this savory sauce with or without turkey or lean ground beef.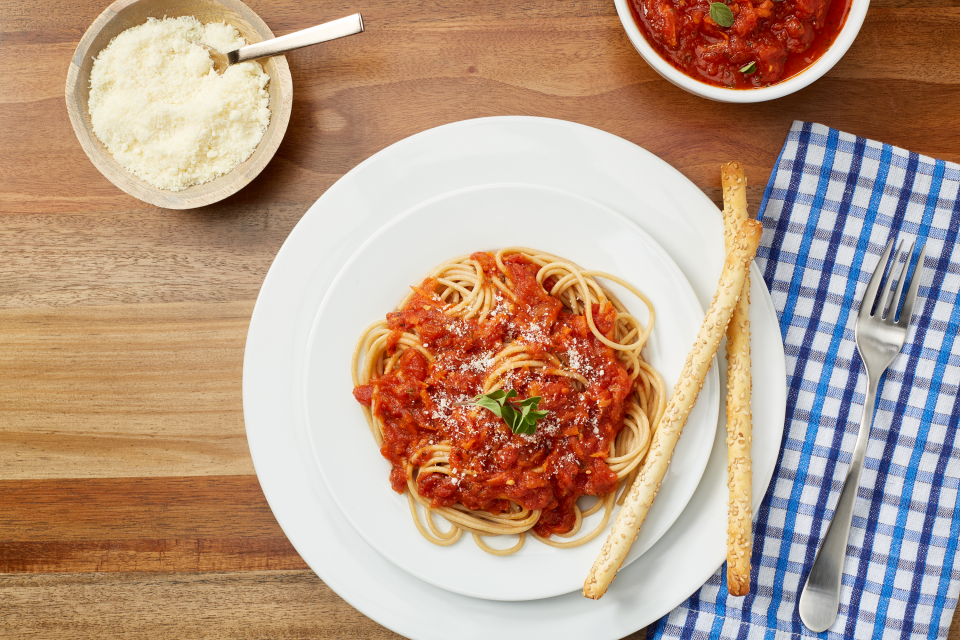 Serving size:
1/2 cup
Prep time:
30 minutes
Cook time:
20 minutes
Total time:
50 minutes
Equipment:

Cutting board

Vegetable peeler

Box grater

Can opener

Medium pot with lid

Measuring spoons

Utensils:

Knife

Mixing spoon
Serving Suggestion:
Serve over whole grain pasta and steamed veggies.
Recipe sourced from Share Our Strength's Cooking Matters
2 medium onions, diced
8 cloves garlic
2 medium carrots
2 tablespoons oil, vegetable or canola
2 teaspoons basil, dried
2 teaspoons oregano, dried
½ teaspoon salt
1 teaspoon black pepper, ground
2 28 ounce no salt added can tomatoes, crushed
Instructions
Before you begin wash your hands, surfaces, utensils and vegetables.

Peel onion, garlic and carrot.

Mince garlic cloves. Set aside in bowl, or at corner of cutting board.

Shred carrots using grater. Set aside in bowl, or at corner of cutting board.

In a medium size pot over medium heat, heat oil. Add onion, garlic, and carrots. Cook until onion is soft and transparent, about 3 to 5 minutes.

Add basil, oregano, salt, pepper, and tomatoes. Bring to a boil.

Cover and reduce heat. Set timer and simmer for 15 minutes.
Tips
Add cooked ground turkey, or lean ground beef to make a meat sauce. Cook meat and drain fat, add to veggies, and proceed with recipe.

Cool sauce and freeze for later use.

Try adding 1-2 tablespoons of balsamic vinegar with the spices for a different flavor.
Ingredients


What goes in Homemade Tomato Sauce?

Chopped Tomatoes

Carrots

Canola Oil

Chopped Onions

Garlic Cloves
Nutritional Information
(Per Serving)
See complete nutrition facts >>
Comments