Homemade Tomato Sauce
Dairy-Free |
Gluten-Free |
Kid Approved |
No Added Sugars |
Vegan |
Vegetarian |
WIC Friendly |
Other |
Egg-Free |
Nut-Free
Enjoy this savory sauce with or without turkey or lean ground beef.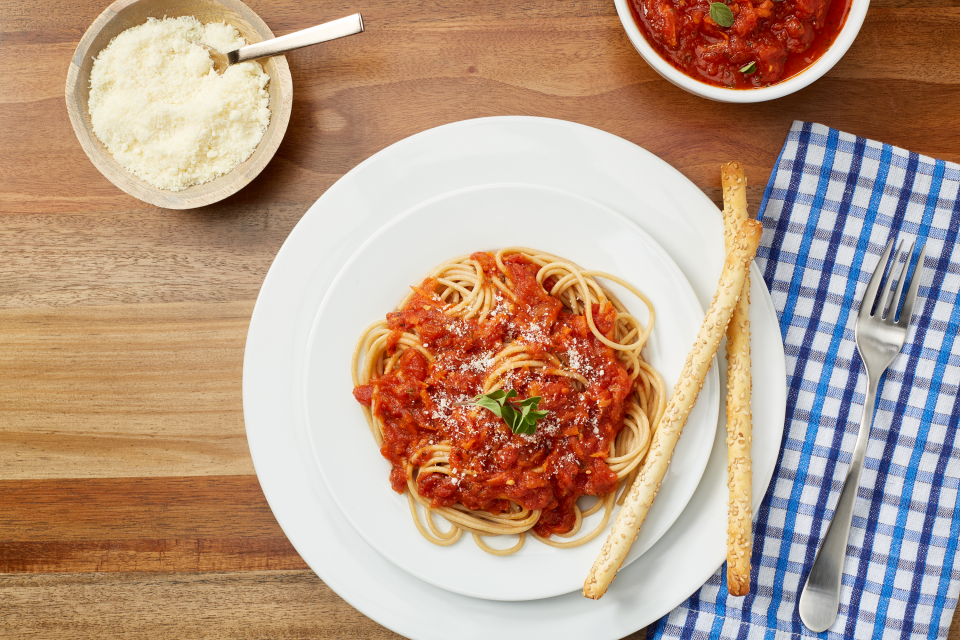 Serving size:
1/2 cup
Prep time:
30 minutes
Cook time:
20 minutes
Total time:
50 minutes
Equipment:

Cutting board

Vegetable peeler

Box grater

Can opener

Medium pot with lid

Utensils:

Knife

Mixing spoon

Measuring cups and spoons
* Cost and availability of recipe ingredients may vary across different regions of Ohio. Cost per serving information should be used as a general guide when considering recipe cost.
2 onions, diced
8 cloves garlic, minced OR 3 tablespoons garlic powder
2 medium carrots, grated
2 tablespoons olive oil OR vegetable oil
1 1/2 tablespoons Italian seasoning OR Celebrate Your Plate Italian Seasoning
1/2 teaspoon salt (optional)
1 teaspoon black pepper
2 28 ounce cans no salt added crushed tomatoes
Instructions
Before you begin, wash your hands, surfaces, utensils, tops of cans, and produce.
In a medium-sized pot over medium heat, add oil, onion, garlic, and carrots. Cook until onions soften, about 3-5 minutes.
Add tomatoes, Italian seasoning, salt, and pepper. Stir to combine.
Increase heat and bring the sauce to a boil.
Reduce heat and cover pot. Allow sauce to simmer for 15 minutes, stirring occasionally.
Tips
Add cooked ground turkey, or lean ground beef to make a meat sauce. Cook meat and drain fat, add to veggies, and proceed with recipe.
Cool sauce. Refrigerate for up to 3 days or freeze for up to 1 month.
Try adding 1-2 tablespoons of balsamic vinegar with the spices for a different flavor.
Featured
Ingredients


What goes in Homemade Tomato Sauce?

Canned Diced Tomatoes

Carrots

Chopped Onions

Garlic Cloves

Crushed Canned Tomatoes
Nutritional Information
(Per Serving)
See complete nutrition facts >>
Comments