Peach Crumble
Dairy-Free |
Desserts |
Kid Approved |
Low Sodium |
High in Fiber |
Vegan |
Vegetarian |
Egg-Free |
Nut-Free
The perfect ending to your busy day - juicy peaches are topped with a buttery crumble and baked until bubbly.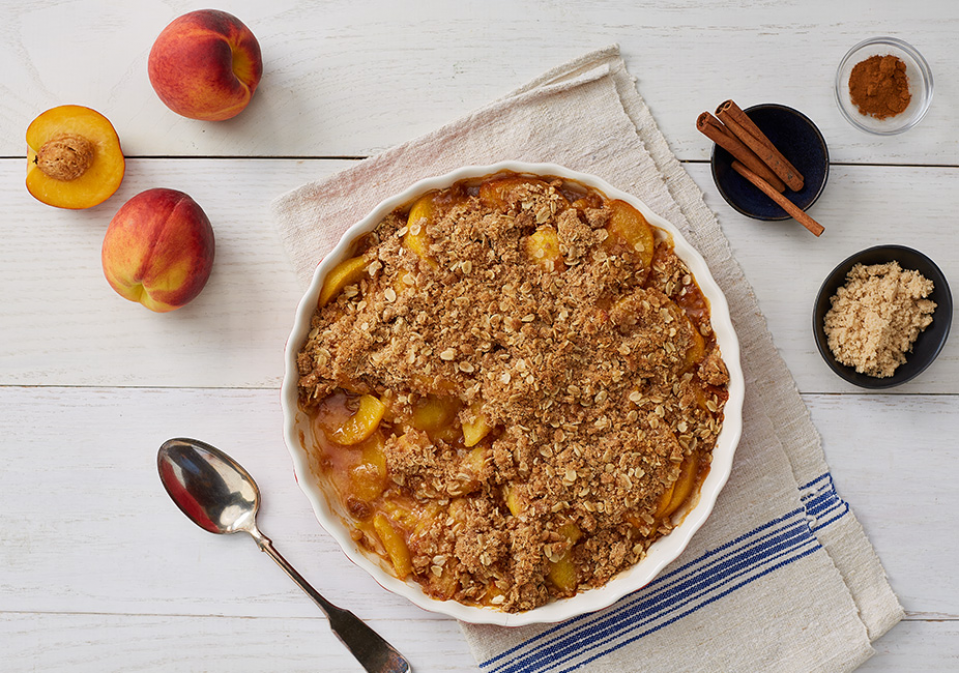 Temperature:
400 degrees
Serving size:
1/2 cup
Prep time:
5 minutes
Cook time:
25-30 minutes
Total time:
30-35 minutes
Equipment:

9-inch pie pan

Small bowl

Large bowl

Can opener

Utensils:

Spoon

Fork

Measuring cups and spoons
* Cost and availability of recipe ingredients may vary across different regions of Ohio. Cost per serving information should be used as a general guide when considering recipe cost.
Non-stick spray
4 15 ounce cans sliced peaches in juice, drained
2 tablespoons corn starch
1 teaspoon (regular or imitation) vanilla extract
2 teaspoons ground cinnamon, divided
2/3 cup rolled oats
1/3 cup brown sugar
1/3 cup whole wheat flour
2 1/2 tablespoons butter
Instructions
Before you begin, wash your hands, surfaces, utensils, and tops of cans.
Preheat oven to 400 degrees.
Spray a 9-inch-deep dish pie pan with non-stick spray and pour peaches in the pan. Spread evenly across pie pan.
In a small bowl, combine corn starch, vanilla, and 1 teaspoon cinnamon. Pour mixture over peaches.
In a large bowl, mix the remaining cinnamon, oats, brown sugar, flour, and butter with a fork until it forms a crumbly texture. Sprinkle over peaches in pie pan.
Bake for 25 to 30 minutes or until juices are thickened and bubbly, and topping is lightly browned. Serve while hot.
Featured
Ingredients


What goes in Peach Crumble?

Cinnamon
Canned Peaches

Oats

Whole Wheat Flour
Nutritional Information
(Per Serving)
See complete nutrition facts >>
Comments