Stove-Top Ratatouille
Dairy-Free |
Gluten-Free |
Main Dishes |
Low Sodium |
No Added Sugars |
High in Fiber |
WIC Friendly |
Egg-Free |
Nut-Free
Don't let the fancy name fool you: ratatouille is easy to make. Everything goes in a single pot. Bon Appétit!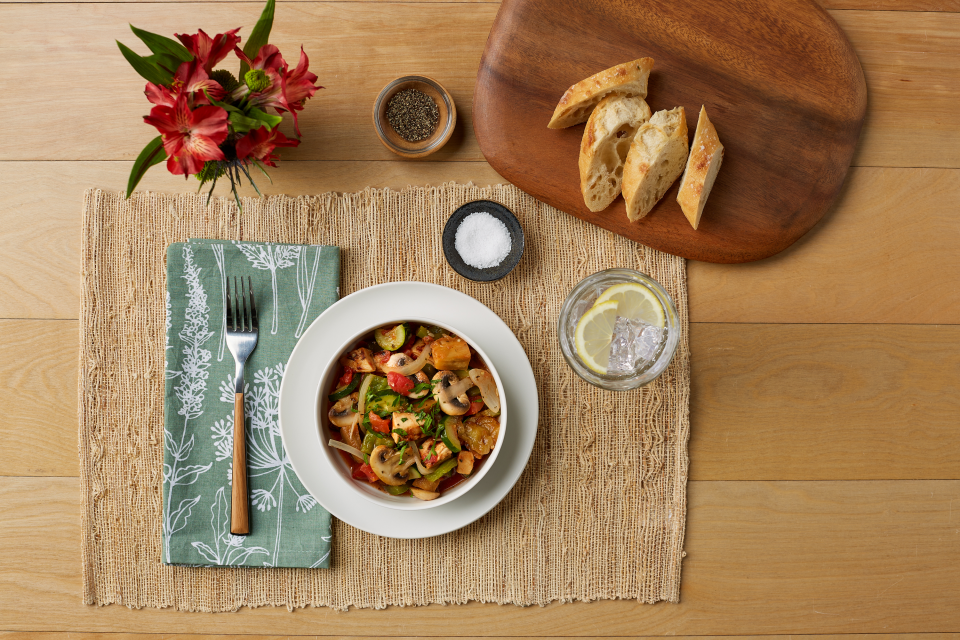 Temperature:
N/A
Serving size:
1 cup
Prep time:
10 minutes
Cook time:
30 minutes
Total time:
40 minutes
Equipment:

Cutting board

Large pot

Can opener

Utensils:

Knife

Fork

Mixing spoon, spatula, or tongs

Measuring cups and spoons
* Cost and availability of recipe ingredients may vary across different regions of Ohio. Cost per serving information should be used as a general guide when considering recipe cost.
1 tablespoon olive oil OR vegetable oil
2 boneless skinless chicken breasts, cut into 1-inch pieces
2 zucchinis, thinly sliced
1 eggplant, peeled and cut into 1-inch cubes
1 onion, thinly sliced
1 green bell pepper, cut into 1-inch pieces
1 8 ounce package mushrooms, sliced
1 14.5 ounce can no salt added diced tomatoes with liquid
4 clove garlic, minced OR 4 teaspoons garlic powder
2 teaspoons Italian seasoning OR Celebrate Your Plate Italian Seasoning
Instructions
Before you begin, wash your hands, surfaces, utensils, tops of cans, and vegetables.
Heat oil in large pot. Add chicken and cook for 6-8 minutes, until browned.
Remove chicken from pot and add zucchini, eggplant, onion, green pepper, and mushrooms. Cook about 15 minutes, stirring occasionally.
Add tomatoes, Italian seasoning, and garlic (if using). Stir to combine. Add chicken and continue cooking for about 8 minutes, or until eggplant slices are tender and can be easily pierced with a fork.
Featured
Ingredients


What goes in Stove-Top Ratatouille?

White Onion

Zucchini

Crushed Canned Tomatoes

Mushrooms

Eggplant

Green Peppers

Chicken Breast
Nutritional Information
(Per Serving)
See complete nutrition facts >>
Comments