Street-Style Fish Tacos
Gluten-Free |
Kid Approved |
Main Dishes |
Quick & Easy |
No Added Sugars |
High in Fiber |
WIC Friendly |
Egg-Free |
Nut-Free
Flaky white fish seasoned and topped with a cool, tangy slaw will take your taco night to the next level.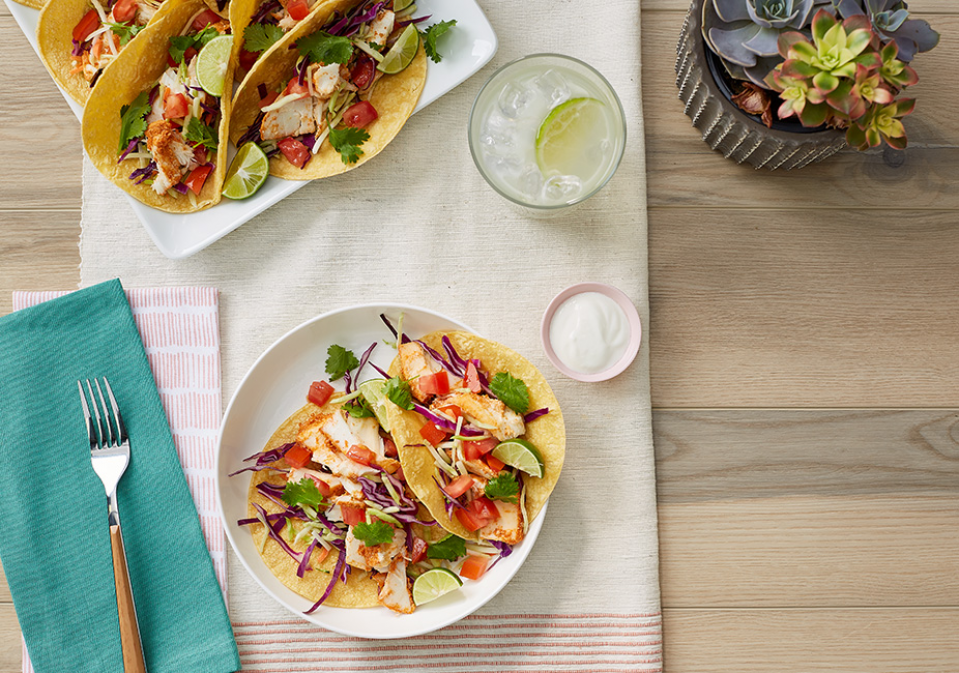 Temperature:
Medium-high heat
Serving size:
2 tacos
Prep time:
20 minutes
Cook time:
10 minutes
Total time:
30 minutes
Equipment:

Medium bowl

Large frying pan

Utensils:

Mixing spoon

Measuring cups and spoons
* Cost and availability of recipe ingredients may vary across different regions of Ohio. Cost per serving information should be used as a general guide when considering recipe cost.
1 pound (fresh or frozen) white fish fillets (tilapia, cod, perch, etc.)*
1 tablespoon olive oil OR vegetable oil
2 tablespoons lemon juice (about 1 lemon)
1/2 packet reduced sodium taco seasoning or 2 tablespoons Celebrate Your Plate Taco Seasoning
1 14.5 ounce can no salt added diced tomatoes OR 1 large tomato, diced
12 corn tortillas, warmed
1 cup red cabbage, shredded and 1 cup green cabbage, shredded OR 2 cups bagged coleslaw mix
1/2 cup plain Greek low-fat yogurt OR low-fat sour cream
Taco sauce (optional)
*If frozen, defrost fish according to package directions.
Instructions
Before you begin, wash your hands, surfaces, utensils, tops of cans, and produce, if needed.
Remove fish from package. Pat with paper towel to remove excess moisture.
Using a fork, whisk together oil, lemon juice, and taco seasoning mix in a medium bowl until well-blended. Add fish and stir gently to evenly coat fish in mixture. Pour into a large frying pan.
Evenly cook over medium-high heat for 4-5 minutes, or until fish flakes easily when tested with a fork. Remove from heat. Using a fork, flake fish into small pieces.
Fill tortillas with fish mixture. Drain canned tomatoes.
Top with cabbage, tomatoes, sour cream, and taco sauce, if using. Serve with lime wedge, if desired.
Tips
Mix it up! To add more color to your tacos, try serving with fresh avocado, chopped onion, red pepper, shredded carrots, or cilantro! You can also add taco sauce and lime wedges to taste.
Use your preferred taco shell to customize the taco exactly to your tastes. Try a corn shell or a whole wheat tortilla.
Use your favorite white fish, such as tilapia, cod, or white bass!
Featured
Ingredients


What goes in Street-Style Fish Tacos?

Crushed Canned Tomatoes

White Fish Fillets

Corn Tortillas

Red Cabbage

Greek Yogurt
Nutritional Information
(Per Serving)
See complete nutrition facts >>
Comments