Sweet Potato Taco Boats
Dairy-Free |
Gluten-Free |
Main Dishes |
Quick & Easy |
Low Sodium |
No Added Sugars |
High in Fiber |
WIC Friendly |
Egg-Free |
Nut-Free
One part potato. One part taco. 100% delicious.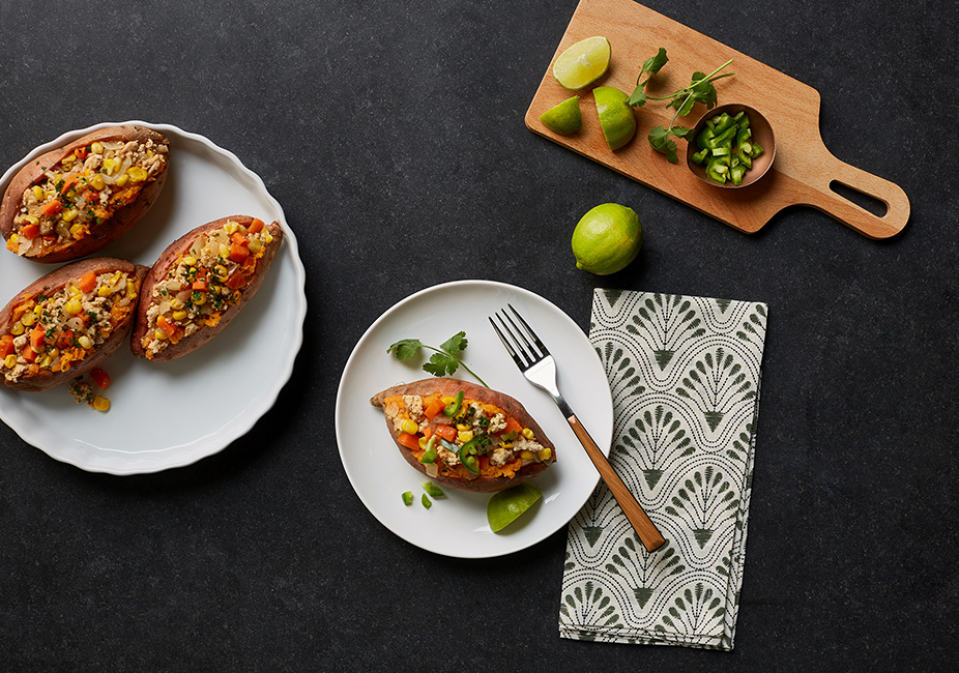 Temperature:
Medium on stovetop, High in microwave
Serving size:
1 potato and 1/2 cup taco meat or beans
Prep time:
5 minutes
Cook time:
10 minutes
Total time:
15 minutes
Equipment:

Cutting board

Microwave-safe dish large enough to hold sweet potatoes

Large frying pan

Spatula or mixing spoon

Utensils:

Knife

Fork

Measuring cups and spoons
* Cost and availability of recipe ingredients may vary across different regions of Ohio. Cost per serving information should be used as a general guide when considering recipe cost.
4 small sweet potatoes
1/2 pound lean (85% or leaner) ground beef OR turkey
2 carrots, peeled and chopped
1 medium onion, chopped
1 cup frozen corn
1/2 packet reduced sodium taco seasoning OR 2 tablespoons Celebrate Your Plate Taco Seasoning
1/4 cup fresh cilantro, chopped (optional)
Instructions
Before you begin, wash your hands, surfaces, tops of cans, utensils, and vegetables.
Poke each sweet potato several time with a fork. Place potatoes in microwave-safe dish and microwave on high for 10 minutes. Turn sweet potatoes over half way through the cooking time.
While potatoes are cooking, cook ground beef or turkey, carrots, and onion in a frying pan over medium heat until no pink remains in ground beef or turkey, about 6 minutes. Drain fat into a paper towel-lined bowl and throw away.
Add frozen corn and taco seasoning. Cook for an additional 2 minutes.
Split tops of sweet potatoes lengthwise, as you would a baked potato. Fluff potatoes with a fork, top with the beef mixture, and top with cilantro (if using).
Tips
Sweet potatoes can also be cooked in the oven for 45 minutes at 400 degrees.
You can substitute 1 can of beans for the 1/2 pound of ground beef or turkey.
Featured
Ingredients


What goes in Sweet Potato Taco Boats?

Sweet Potatoes

Carrots

Chopped Onions

Frozen Corn

Lean Ground Beef
Nutritional Information
(Per Serving)
See complete nutrition facts >>
Comments