Veggie Roll-Ups
Main Dishes |
Side Dishes |
No Added Sugars |
Vegetarian |
WIC Friendly |
One-Two Serving
Spread a tortilla in cream cheese, cover edge-to-edge with chopped veggies, sprinkle with seasoning and roll tight: it's that easy!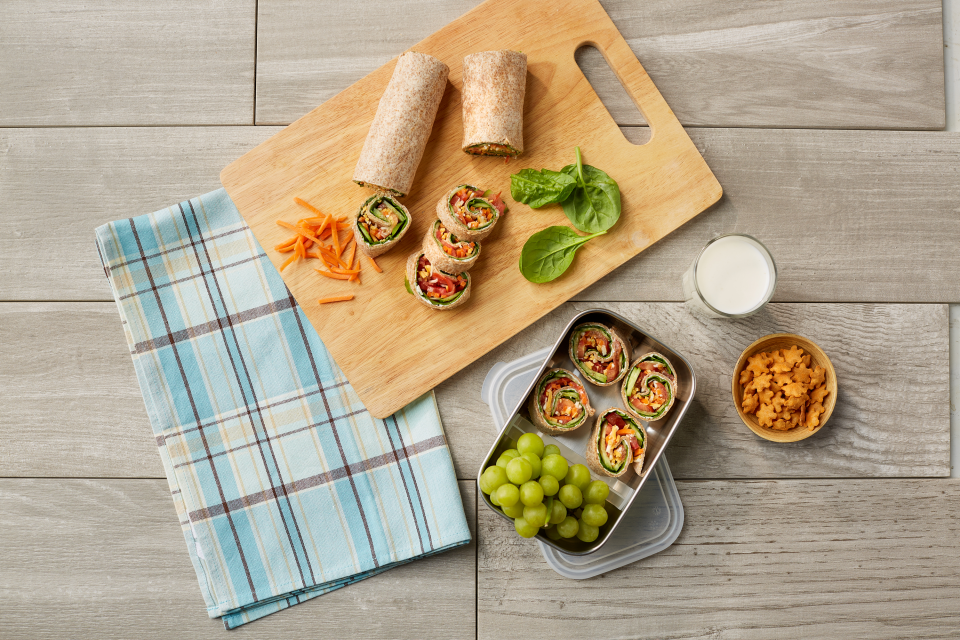 Serving size:
3-4 rolls, depending on size (will be 1/2 of the rolls)
Prep time:
10 minutes
Total time:
10 minutes
Equipment:

Cutting board

Measuring spoons

Measuring cups

Utensils:

Butter knife to spread cream cheese

Sharp knife to cut veggie rolls
1 8-inch whole wheat tortilla
2 tablespoons reduced fat cream cheese, at room temperature
1 teaspoon onion powder OR Italian seasoning
1 1/2 cup fresh vegetables (chopped spinach or tomatoes, grated carrots, thinly sliced cucumbers, etc.)
1/4 cup reduced fat shredded cheese, any type
1 tablespoon fresh herbs, any type (parsley, dill, cilantro, etc.)
Instructions
1. Before you begin, wash your hands, surfaces, utensils and vegetables and fresh herbs, if using.
2. Spread cream cheese in an even layer to the edges of the tortilla.
3. Evenly sprinkle seasoning and vegetables on top of the cream cheese and top with shredded cheese.
4. Starting at one side of the tortilla, tightly roll the tortilla.
5. Slice the rolled tortilla into 1-inch rounds.
Featured
Ingredients


What goes in Veggie Roll-Ups?

Spinach

Chopped Tomatoes

Carrots

Cucumber

Whole Wheat Tortillas
Nutritional Information
(Per Serving)
See complete nutrition facts >>
Comments